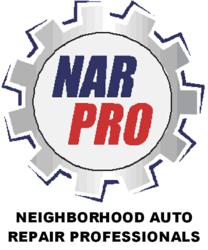 Giving back to the community is a very important part of NARPRO's mission.
Phoenix, AZ (PRWEB) October 23, 2011
NARPRO, the Network of Neighborhood Auto Repair Professionals, was honored by the Phoenix Business Journal for their volunteer work with Phoenix based nonprofit organization Helping Hands for Single Moms. The network was given their award at a reception hosted by the Business Journal on October 20th, held at the Phoenix Art Museum.
Helping Hands is a community-based nonprofit that assists single moms while they pursue a college education and financial independence; NARPRO and Helping Hands have been working together for five years. The group provides $3,000 annual scholarships and works with 53 community partners, the biggest being NARPRO, which provides auto repair service to Helping Hands moms in need. Last year, 52 moms received aid from Helping Hands, and the program has helped 63 women earn four-year college degrees since 2005. For more information on Helping Hands for Single Moms visit http://helpinghandsforsinglemoms.org
The process is simple: if a mom's car breaks down, she calls Helping Hands' program director Chris Coffman, who immediately matches her up with a NARPRO auto repair shop in her area. Some NARPRO shops have even taken the service a step further – they saw cars in such bad shape that they found replacements to fix up and give to the moms instead.
"Winning this award is truly an honor for us," said Jay Jennings, NARPRO General Manager. "Giving back to the community is a very important part of NARPRO's mission."
This is the fourth year for the Phoenix Business Journal's Heart of Business Awards, a joint program with HandsOn Greater Phoenix. These awards were developed with the purpose of recognizing some of the Valley's most benevolent individual and corporate supporters of local nonprofits and community members. This is the first time NARPRO and Helping Hands have been nominated and won.
About NARPRO
NARPRO, the Network of Neighborhood Auto Repair Professionals, was founded in 2004 by business partners Jay Jennings and Alan Tarr. NARPRO helps consumers find top, independent and honest auto repair and auto body shops near where they live, work or travel. Every member shop in the network must pass NARPRO's 26 tests of quality, integrity and customer satisfaction before they can qualify. As of 2011, NARPRO is launching a national expansion to 110 markets across the US through an exclusive franchise program. For more information about NARPRO and its founders, visit http://www.NARPRO.com
###