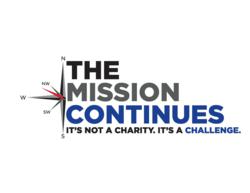 St. Louis, Missouri (PRWEB) October 21, 2011
Today's announcement by President Obama that 39,000 troops in Iraq will be home by year end is significant news for our country, for the men and women in uniform who serve with valor and dignity, and for their families at home who have awaited this day with great anticipation. As many of these service members will join the veteran ranks in the coming years, it is paramount that America double down on its commitment to support and empower those making the challenging transition from military to civilian life.
At The Mission Continues, we see every day how veterans are rebuilding a sense of purpose here at home through acts of service and volunteerism in their communities. These men and women are applying their desire to serve - which they displayed so strongly in the military and in combat - to their community. In turn, they are strengthening their commitment to leadership, personal growth, and achievement. In the process, they are having stronger transitions home, and building stronger communities through their service. On behalf of the entire Mission Continues team and its' Fellows nationwide, we salute those who will be returning from Iraq, and look forward to asking them: "how will you serve again?"
**Additional Media Resources**
As you are working to build stories this weekend and in the coming weeks, we can offer a number of spokespeople who will bring relevant and highly credible viewpoints:
1. CEO & Founder of The Mission Continues: Eric Greitens, Navy SEAL (reserves), Rhodes Scholar, and the NY Times best-selling author of The Heart and the Fist. Eric served in Iraq and is a frequent media spokesperson for veteran affairs. Learn more at http://www.ericgreitens.com/
2. St. Louis-based Veteran: Torrence Morris. Torrence served in the U.S. Army for nine years as a human resources specialist. After two deployments (including one in Iraq) Torrence was discharged from the Army for medical reasons. His Fellowship was focused on working with veterans with disabilities to help them gain employment; Torrence recently joined the team at The Mission Continues to run the Fellowship Alumni Program. Torrence has family members currently serving in Iraq.
3. Denver-based Veteran: Keith Deutsch. Keith served in the U.S. Army for just over one year as a civil engineer. Keith deployed to Iraq in support of OIF with the 244thENBN in 2003. While Keith's squad was on convoy to construct a new base, they were attached and a vehicle near Keith was hit by a RPG. As a result of the attack Keith lost his right leg and was medically retired from the Army. Keith recently graduated with an AA from Westwood College as an Automotive Technician. Currently, Keith is completing a Mission Continues Fellowship with Team River Runner. Keith's goal is to gain an invitation to compete in a summer Paralympics Olympic Games.
4. Kansas City-based Veteran: Valerie Brown: Following the Sept. 11th attacks, Valerie decided to join the United States Army. Valerie deployed twice to Iraq where she flew on many lifesaving missions as a Black Hawk crew chief assisting the medic with patients and the pilots with aircraft security and air surveillance. Valerie did a service Fellowship volunteering with the Accessible Arts in Kansas City, Kansas. She now works with the organization as an outreach coordinator, helping the state to expand its outreach to special needs children and adults for its national affiliate, VSA.
For more information or to arrange to interview one of these veterans, please contact:

Rich Polt, Communications Liaison, The Mission Continues, 617-699-9144, richpolt(at)gmail(dot)com
Mary Yonkman, Chief Strategy Officer, The Mission Continues, 202-280-8693 mary(at)missioncontinues(dot)org
###