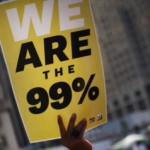 "There isn't much real capitalism on Wall Street," said Jason Hartman.
Irvine, CA (PRWEB) October 21, 2011
Jason Hartman takes a unique middle ground on the 'Occupy Wall Street' protests during episode 224 of his popular podcast The Creating Wealth Show. Hartman's belief is that Wall Street doesn't represent capitalism at all—as the right-wing media would have people believe.
Hartman proclaims "nothing could be further from the truth." Wall Street, banks and mega-corporations are mostly anti-capitalist in that they're playing a rigged game with lobbyists, government cronyism and insider dealings at every level. Wall Street uses lawyers, lobbyists, accountants and PR firms, rather than guns, to commit their 'crimes.'
"There isn't much real capitalism on Wall Street," said Jason Hartman, host of The Creating Wealth Show and founder of Platinum Properties Investor Network. "If you're looking for capitalism, look to Main Street, where small business operates under far too much government regulation and without the benefits afforded to Wall Street insiders. Entrepreneurship is the real American capitalism."
Both sides—the right and left-wing—are promoting a fairy tale but this whole issue really isn't that simple. Hartman adds, "I assume most of the protesters are clueless folks who may need haircuts. However, so is the conservative media, which I usually agree with, in saying that Wall Street represents capitalism."
The mega-corporations simply aren't playing the same game as small business owners. They're playing in a much better field. Hartman believes "if the 'Occupy Wall Street' movement could get clear on their message, they'd be a lot more successful."
The problem is that they have no leader, unified message or defined goals. "They should being saying 'we love capitalism!' exclaims Hartman. "It simply doesn't exist on Wall Street."
Jason Hartman's The Creating Wealth Show has featured many recognizable names in recent years including Robert Kiyosaki (Rich Dad, Poor Dad), Harry Dent (The Great Depression Ahead), Michael Gerber (The E-Myth Revisited), Thomas Sowell (The Housing Boom and Bust), Thomas Woods (Meltdown), Pat Buchanan (author and presidential candidate), Michael Munger (gubernatorial candidate, North Carolina), Addison Wiggin (Empire of Debt with Bill Bonner) and many others. The Creating Wealth Show is available for free on http://www.JasonHartman.com/podcast/ or the iTunes store - offering investment strategy advice to those who wish to be financially independent through income property investing.
About Jason Hartman
Jason Hartman, CRS, GRI, CSP, AIPIS, is one of America's foremost experts on long-term wealth creation through monetary policy and income property. Jason is the founder of Platinum Properties Investor Network - a referral network designed to help people achieve The American Dream of financial freedom by purchasing income property in prudent markets nationwide. Jason is an accomplished entrepreneur, public speaker, media personality and author of 11 books.
Jason's Complete Solution for Real Estate Investors™ is a comprehensive system providing education, research, resources and technology for income property investment. His highly sought after educational events, speaking engagements and his acclaimed The Creating Wealth Show inspire and empower hundreds of thousands of people in 26 countries worldwide. For information, call 714-820-4200 or visit Jason Hartman online.
###