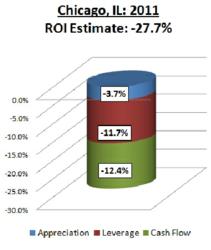 "Even in the midst of recent value contractions, rents are still low in relation to market values," said Jason Hartman.
Irvine, CA (PRWEB) October 24, 2011
Chicago represents an income property market that should be avoided by astute investors in favor of other areas with more favorable economic fundamentals according to Jason Hartman, wealth creation expert and author of Complete Solution for Real Estate Investors™. Chicago has experienced dramatic escalation of market values from the real estate bubble. With high rates of regulation and taxation, Hartman believes that the city is an intrinsically difficult place to invest.
Historically, values have been very high relative to rents and the restrictive land use laws have resulted in a constrained supply that sends prices spiraling up when demand increases and crashing down when it softens. The state of Illinois is in an extremely difficult budget situation where the government financial commitments exceed their tax revenues by a considerable margin.
"Even in the midst of recent value contractions, rents are still low in relation to market values," said Jason Hartman, founder of Platinum Properties Investor Network and host of The Creating Wealth Radio Show. "This means that investors must finance the monthly cash shortfall from their personal reserves and hope for value appreciation so that they can realize a profit."
In short, purchasing income property in Chicago requires investors to guess the exact timing of a market bottom so that properties can be purchased when a path of appreciation is just about to begin.
The city is currently forecasting a 2011 budget deficit in excess of $654 million dollars. Furthermore, Chicago's structural deficit is a matter of considerable long-term concern—since spending is growing faster than revenue and recent budget gaps have been filled with one-time revenue fixes. The result of this accumulated financial irresponsibility on the part of city government is likely to result in dramatic tax increases that push businesses out of Chicago. Needless to say, this political environment is not the ideal backdrop for income property investors.
According to RealtyTrac, the Chicago area recorded a dramatic increase in the number of homes that went into foreclosure this summer. Notices of default totaled 6,239 in the seven Chicago-area counties of Cook, DuPage, Kane, Kendall, Lake, McHenry and Will in August, a 30 percent increase from July. Meanwhile, overall foreclosure activity, including properties that went to court-ordered auction, though up 21 percent from July, was down 28 percent from August 2010.
Five market areas that are currently favorable for income property investing include:

Atlanta, GA – Population to grow 43% by 2025
Dallas, TX -- Favorable business and tax climate
Indianapolis, IN – One of Forbes top 10 cities
Phoenix, AZ – The main Southwest commerce hub
St. Robert, MO – Rapid job growth for next 5-10 years
Forecast Methodology
Platinum Property Investor Network uses return-on-investment (ROI) predictions for each individual market are based on three fundamental components not considered by other forecasters. Income property, unlike other investments, is a multi-dimensional asset class. The first is component appreciation (or depreciation), which is based on a composite of forecasts from CNN Money, Fortune and Hartman's innovative Regression to Replacement Cost™ methodology. The second is leverage. The reason Hartman's methodology separates appreciation from leverage is to pinpoint how much value is coming from the asset itself and how much is coming from financing benefits when acquiring the asset. The final component of the ROI predictions is cash flow where income property can be compared to bonds and dividend-paying stocks.
The Platinum Properties Investor Network's model is the only one of its kind that includes a full ROI build. Most forecast reports begin and end their analysis with value appreciation or depreciation. Hartman and his team understand the full dynamics of return on investment and have chosen to create and report a complete ROI analysis for each of the targeted market areas.
About Platinum Properties Investor Network
Platinum Properties Investor Network was created to help people achieve The American Dream of financial freedom by purchasing income property in prudent markets nationwide. Designed by Jason Hartman, the company's Complete Solution for Real Estate Investors™ is a comprehensive system providing real estate investors with education, research, resources and technology to deal with all areas of their income property investment needs.
Through podcasts, educational events, referrals, mentoring and software to track investments, investors can easily locate, finance and purchase properties in exceptional markets with confidence and peace of mind. For information, call 714-820-4200 or visit Platinum Properties Investor Network online.
###