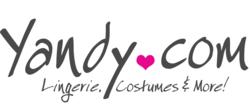 Our hope is costumes, like the sexy fruit collection, offer customers the chance to stand out at their Halloween parties and to think outside of the box right along with us.
Phoenix, AZ (PRWEB) October 21, 2011
Yandy.com, creator of the controversial Finding Clownfish and Sexy George Washington costumes, is at it again this 2011 Halloween with the creation of the exclusive sexy fruit costume collection and it has the internet buzzing. The Yandy exclusive collection includes the Sexy Watermelon costume, Sexy Banana costume, Sexy Strawberry costume and Sexy Pineapple costume that, together, create one sexy looking fruit cocktail.
Yandy first introduced the sexy fruit costumes at the end of September, 2011. Since then, popular web sites, like Reddit.com, have caught wind of the unique collection and run with it. There was even an entire Reddit post dedicated to poking fun at the Sexy Watermelon costume.
Other sites have featured the costumes in online galleries like on a Martini Always Helps. There are, however, several sites that talk up the fact that the ideas are clever and the simplicity and uniqueness make them a Halloween costume win like 30bananasaday.com.
"We are shocked by the amount of buzz these costumes are getting online," said Yandy CEO, Chad Horstman. "People are either really loving them or really hating them. Either way, we think it's great!"
Yandy works closely year after year with the best manufactures in the industry to drum up some of the most unique costumes ideas found anywhere. These partnerships are "fruitful" because of the outside-of-the-box mentality of the Yandy team along with the unrivalled ability to create well made, quality costumes the manufacturers produce.
"In the end, our costumes are designed to be sexy, unique and to get people talking," said Horstman. "Halloween is meant to be a fun time where people can quite literally be whatever they want. Our hope is costumes, like the sexy fruit collection, offer customers the chance to stand out at their Halloween parties and to think outside of the box right along with us."
As for actual sales, Horstman assures that the negative feedback has not affected sales in anyway, "Let's just say that we'll definitely be re-producing the fruit costumes for 2012."
About Yandy.com
E-commerce is on the rise and Yandy.com is one of the largest online retailers of lingerie, sexy Halloween costumes, swimwear and clothing on the web. With hundreds of couples costumes, sexy mermaid costumes, deluxe Halloween costumes and many more, Yandy carries costumes for every type of shopper. Founded in 2003, Yandy boasts more than 6,500 products always in stock at easily affordable prices. Yandy ensures that every costumer will receive a safe, secure and private online shopping experience and is backed by COMODO online security and Google Checkout. Yandy is dedicated to customer service and only sells what is in stock which allows for quick, same day shipping. Offering the highest quality products at the most affordable prices in the market, Yandy has become a leader in ecommerce. Yandy works closely with all of the manufacturers they distribute for and hand select all of the items on the Web site to ensure customers have the largest and most diverse collection to choose from. In addition, the customer service team at Yandy is unrivaled. With attentive and helpful operators, should a question or problem arise, the customer service team at Yandy is always willing and able to assist. At Yandy, every customer can Be Sexy.
###