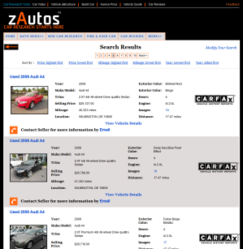 The Used Car Portal application was designed to make it easy for consumers to shop for a pre-owned vehicle online
Irvine, Calif. (PRWEB) October 23, 2011
The Used Car Portal optimizes the consumer's car research experience, providing consumers with a simple-to-use website that includes every detail needed for shoppers to find the right used car. By clicking on the make, model, year, and location of their desired vehicle in the Used Car section of the website, users can browse through a highly organized list of cars that match their preferences.
The site provides information on the vehicle price, mileage, special features, exterior and interior photos and colors as well as a map of the seller's location. Images provide a unique tour of the vehicle from the front to the rear - inside and out. Once the consumer selects a vehicle, they can contact the seller by phone or have the seller contact them by filling out a short form.
"The Used Car Portal application was designed to make it easy for consumers to shop for a pre-owned vehicle online," said David Vennes, founder of zAutos. "Our objective was to build a streamlined interface that was simple and intuitive. We believe we accomplished that and we hope that internet shoppers will enjoy the zAutos experience."
The portal is quickly growing its selection of vehicles and is expected to offer over one million cars within the next few months.
The Used Car Portal is the latest feature created by zAutos.com to enhance a consumer's car buying experience. zAutos.com also offers its viewers the most comprehensive information on new cars, including over 4,000 instructional car videos, 10,000 vehicle eBrochures, dealer quotes, auto news, car reviews, an invoice price tool and a Build Car application that allows users to build a custom vehicle eBrochure. As zAutos continues to develop innovative applications, it is establishing its place as a fast-growing leader in the consumer car research field.
###