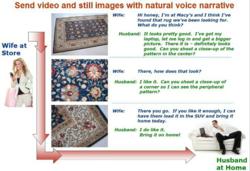 San Francisco, CA (PRWEB) October 24, 2011
Osann IP Consulting today announced the auction of a patent portfolio for smart phone video messaging at the ICAP Patent Brokerage Fall 2011 Live IP Auction on November 17th in San Francisco.
Video calls now exist, and features like Skype's "video snapshot" enable still images to be combined with a video call. US Reissue Patent No RE42210 describes such combined calls including saving them in the manner of voicemails today. The acquisition of Skype by Microsoft raises the probability that video-voicemails according to this invention will be available on smart phones in the future.
In addition to storing video-voicemails, realtime video-voice conversations are optionally recorded for later retrieval in order to document a conversation or because a party in the conversation is not able to view the images in realtime. While the sending party will normally use a conventional smart-phone with digital camera, the receiving party may view video-voicemail images on smart phones or a variety of devices with high-resolution displays including a conventional PC/Laptop/Tablet connected to the Internet providing a 10x higher resolution experience.
For friends and family, the Video-Voicemail paradigm provides an easy way to communicate image and video information while maintaining a communication paradigm that is familiar, basically that of phone calls and voicemails. While shopping, a person might call a friend or family member to show videos and images of items they are considering, while the receiving party views the information for comment and approval.
Mobile phone communication among workgroups is used by most businesses that require frequent communications among individuals at different locations in a local area - for the most part, businesses in the construction industry. Video-Voicemail enables a manager, foreman, or responsible person to better track the progress at a variety of locations and effect swift problem resolution or avoidance. The ability of a foreman to view or anticipate problem areas - using this IP - adds tremendous value.
Entitled "Video-Voicemail Solution for Wireless Communication Devices", the original application was filed on March 22, 2002 and initially issued in 2006 as US Patent No 7,092,735. A reissue application was filed in 2008 and issued with broader claims on March 8, 2011 as Re-issue Pat No RE42210. Pending Re-issue Continuation Application No 13/018,314 is included in the auction lot with claims focused on communication paths and display resolutions, covering scenarios currently emerging in the video messaging arena.
The Video-Voicemail IP lot should be of interest to Mobile Service Providers, Smart Phone Manufacturers, and Software Companies providing platforms for mobile communications. Forward citations for this lot include: Sony, LG Electronics, NEC Electronics, and Sprint Nextel. To find out more about this unique IP portfolio, the IP Auction event, and the patents being offered, contact: Dean Becker at (561) 309-0011 or Dean(dot)Becker(at)us.(dot)cap(dot)com.
About Robert Osann and Osann IP Consulting:
Robert Osann is an Intellectual Property consultant, inventor, and veteran of five venture-backed startups. He was the founding CEO at two VC-funded startups and a co-founder at three others. With equal experience in both engineering and marketing, he is also an inventor with 36 US Patents issued and more than 20 applications pending. Since 2007, he has sold 6 US patents and 9 pending applications in four transactions to three different buyers, including the sale of a Smart Phone patent portfolio at the Ocean Tomo Fall IP auction in 2007. Visit http://www.silaero.com .
About ICAP Patent Brokerage:
ICAP Patent Brokerage is a division of ICAP plc and the world's largest intellectual property brokerage and patent auction firm. Visit http://icappatentbrokerage.com/forsale.
Media Contacts:
Luisa Sepulveda
ICAP Patent Brokerage,
312-327-8162
Luisa(dot)Sepulveda(at)us(dot)icap(dot)com
Robert (Bob) Osann
Osann IP Consulting
408.313.1990
bob(dot)osann(dot)silaero(dot)com
###