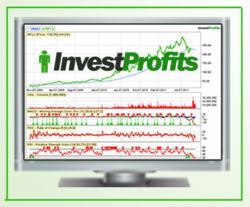 Our goal is to make it easier for investors to use stock charts to find stocks to invest in.
Virginia Beach, VA (PRWEB) October 25, 2011
One of the most difficult things for new and sometimes experienced investors is understanding how to read and understand stock charts. Interactive Stock Charts from InvestProfits.com are fully customizable and come with instructional videos to help the new and experienced investors learn, study, and invest better. Some experienced investors use fundametnal analysis like P/E ratios and earnings growth, while others use technical analysis indicators which consists of reading stock charts and understanding thinks like a 200 day moving average. But many times investors have trouble understanding their charts. Well, that's where InvestProfits.com can be useful.
For example, an investor my look at a stock chart and see a Moving Average / Convergence Divergence (MACD)? Maybe an investor will think, it's two lines that crossover at different intervals, right? The same thing can be seen when looking at the Relative Strength Index (RSI)? Maybe it is seen as an overlay existing at the bottom of a chart that moves up and down in an arbitrary way? Therefore, an investor looking at stock charts can find it troublesome. However, with InvestProfits.com Interactive Stock Charts, investors can research stocks and mutual funds by finding the optimal time to buy or sell. The Interactive Charts have over 53 technical indicators, buy and sell indicators and instructional videos making the learning process easy.
The charts from InvestProfits.com are easy to use and give users the ability to save studies, email charts, and save favorite stock symbols. This makes it easier to implement back-testing, find new investments and keep notations. "Our goal is to make it easier for investors to use stock charts to find stocks to invest in," said Jim Vickery, CEO of InvestProfits.com. One good example can be seen back in November 2008 when Salesforce.com was selling for $24 and InvestProfits Stock charts had several buy signals for this stock at that time. And as of September 2011, Salesforce.com was selling above $135 giving an investor greater than a five-fold return in less than three years.
###