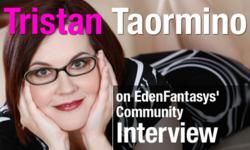 Atlanta, GA (PRWEB) October 22, 2011
Edenfantasys.com continues their innovative community interview series, featuring the best and most fascinating figures in sex and culture. This month, they are thrilled and proud to welcome sex educator, pornographer, and all-around rock star Tristan Taormino to http://www.edenfantasys.com/interviews/sex-educator-and-author-tristan-taormino-101811/ their forum where she'll be answering questions from the EdenFantasys community and fans from around the world. Adult star Buck Angel joins the interview as host and moderator. The interview will be open for questions starting October 18 and will close on October 24.
To nearly all in the adult industry, Tristan Toarmino needs no introduction. From her seminal columns in the Village Voice to her more than 200 media appearances as a sex educator, her thought-provoking books on sex and open relationships, and her repertory of films for Vivid Education, Tristan has had a fascinating career that has no doubt inspired and touched thousands of people. The EdenFantasys community interview gives fans the unique opportunity to ask Tristan questions in an open, welcoming forum.
EdenFantasys is also excited to welcome performer, lecturer and adult star Buck Angel, who will be on hand to host the conversation between Tristan and the Eden community. Buck was the first FTM performer to sign with a major adult studio, and has since started his own production company, Buck Angel entertainment. He is no stranger to the EdenFantasys' family; having composed columns for http://sexismagazine.com SexIS magazine and was on the cover of a print edition EdenFantasys's SexIS magazine with April Flores in 2010.
If you'd like your chance to participate in EdenFantasys' community interview, all you have to do is register for your free EdenFantasys.com account! All interview participants will be entered into a giveaway for the following fabulous prizes, provided by Njoy, Vibratex and Vixen Creations.
###