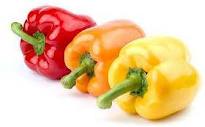 Bell peppers @ Olericulture.org
(PRWEB) October 23, 2011
Olericulture is the science and technology of cultivating and producing vegetables and within this scientific area, Olericulture.org provides a wide range of resources related to traditional, temperate and oftentimes indigenous, tropical vegetables.
As a cultivar group of the pepper plant (Capsicum annuum, Solanaceae), bell peppers (sweet peppers, capsicums, C. annuum var. longum) produce large bell-shaped fruits of different colors. They are one of the vegetables most rich in contents of vitamin C, vitamin E, and the carotenoids alpha-carotene, beta-carotene, lycopene, lutein, cryptoxanthin and zeaxanthin. In contrast to chili pepper, however, capsicums are not pungent since they contain no Capsaicin. The compound Capsaicin is member of the capsaicinoids which are produced as a secondary metabolite by chili peppers.
The Bell Pepper Section within the Vegetables Crops Category of Olericulture.org is subdivided into a general and a research category. The general section provides information about the aspects of production of capsicums including cultivation, pests and diseases, harvest, postharvest, storage and marketing. The most popular resource in this section is the "Pepper production in Florida" webpage of the University of Florida's Institute of Food and Agricultural Sciences followed by the same institution's page on pepper pest management.The latter resource includes information and guides to treatment of pepper pests and diseases including that of nematodes and pepper stem scald.
The Bell Pepper Research Category contains scientific information and links to peer-reviewed papers, journal articles, theses, books, abstracts, and other scholarly literature on sweet peppers. A publication on "Bell pepper production in California" by the University of California's Vegetable Research and Information Center is a must-read in this section. Another popular resource is the Sweet Pepper Production Guide of the Asian Vegetable Research and Development Center (AVRDC) in Taiwan.
Olericulture.org was launched in 1996 and has emerged as a comprehensive aggregator of websites and science references in the applied life science olericulture. The site is now under new management and has just been republished.
Users who wish to submit their own or their company's information for inclusion in Olericulture.org are welcome to submit their listing through the site. Furthermore, the site maintains a number of RSS feeds which enables users to subscribe to their most favorite topics within the site. For better public exposure Olericulture.org also maintains and continuously updates the Twitter account @Olericulture.
###