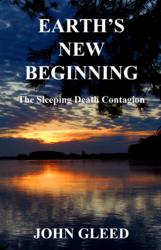 Morrisburg, Ontario, Canada (PRWEB) October 24, 2011
This new novel by John Gleed is available now as an electronic book (ebook) on Amazon Kindle, Kobo, Apple iBooks, Barnes & Noble Nook, Sony eReader and more. It will be available shortly as a paperback from Aventine Press
The story gives an account of how the human race came to an extraordinarily rapid and unexpected near-extinction early in the twenty-first century. No thermonuclear or biological war, pollution catastrophe, or any kind of human created disaster played a part in this downfall of modern man.
A highly infectious contagion kills most of the Earth's population in less than three months. The Sleeping Death Contagion (SDC) virus causes the death of nearly every infected victim as they sleep, in less than four days. The nature of SDC was such that it could have resulted in the extinction of the human race. The high level of infectivity and the short time period to fatality had catastrophic results. Only a rare and random genetic immunity to the fatal effects of the virus prevented the total extinction. However, it leaves less than one in a hundred thousand survivors (0.001 %) – less than three thousand in North America.
The story follows the experiences of four unrelated survivors in Canada, England, Kenya and the United States through the rapid spreading of the infection around the world. It then follows their individual survival stories for the first nine months after the disease strikes.
John Gleed is a retired high-tech executive living in Morrisburg, Ontario, Canada on the Canadian shores of the St. Lawrence River, bordering New York State. He has always been interested in apocalyptic fiction about what might happen if a worldwide catastrophic disaster occurred. "Day of the Triffids" by John Wyndham, "No Blade of Grass" by John Christopher, "On the Beach" by Neville Shute and "The Stand" by Stephen King are among his favorite novels.
He was born and grew up in rural North Yorkshire, England. He emigrated to Canada in 1969. He spent most of his high tech career in Ottawa, Canada and retired in 2002.
John Gleed, in talking about his new novel, said "Have you ever dreamed about a world where you can live wherever you want, without regard to what you can afford? Have you wished that you could go into any store and just take what you wanted no matter what the price sticker said? This is the kind of world in which the subjects in my new novel, find themselves ... but this freedom came at such a great cost!"
For more information, please visit: http://earthsnewbeginning.com/
###