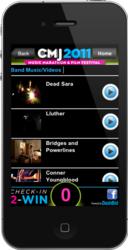 "It is not enough to have a mobile website anymore," said John Puterbaugh, CEO of Nellymoser. "A mobile companion app helps people select what they want to do and guides them on how to do it."
New York, NY (PRWEB) October 24, 2011
For five days, 120,000 indie music lovers will descend on New York City for the CMJ 2011 Music Marathon with the quest of attending all of the must-see breakout performances. But, with 1,300 artists and events at 80 New York City venues, nightclubs and theaters spread all over town, just deciding where to go next could become a challenge for attendees.
A new type of mobile companion app from DashBid, a video advertising and mobile couponing company, and built by Nellymoser, a mobile apps and mobile experience creator, can become the native guide for those looking to find their way. The app for Apple iPhone and Android devices goes beyond just presenting an event schedule with features that add immediacy and value to the CMJ Music Marathon experience:

A scrolling news feed which highlights news and the latest changes.
Music and mobile videos from more than 500 bands, music downloads, and other information that helps attendees choose which events to attend.
A fully integrated schedule including map directions hosted by Sched (http://sched.org) makes it easy to choose bands and get from performance to performance on time.
A built-in QR code scanner lets attendees check in to each venue. Attendees accumulate points each time they check in for the "Check-in-2-Win" mobile sweepstakes.
Brand recall surveys help brands connect with mobile app users by answering questions about previously viewed mobile video ads.
Premium content is supported with mobile video advertising integrated with DashBid's mobile video advertising platform. The DashBid application allows advertisers to place mobile video ads and mobile coupons directly on the mobile content.
Discounts and mobile coupons from local merchants provide additional value to attendees.
The app links directly to Facebook.
"It is not enough to have a mobile website anymore," said John Puterbaugh, CEO of Nellymoser. "A mobile companion app helps people select what they want to do and guides them on how to do it. It provides premium, engaging content and a way for brands to further connect with audiences through video ads as well as opportunities to save with mobile coupons."
"Engaging and activating our attendees beyond the five-day live event itself is critical to helping us monetize all of the CMJ content," said Bobby Haber, CEO of CMJ, "Partnering with DashBid provides us with a great way to engage our audience 365 days per year. We are excited to have them as the official mobile application of CMJ 2011 and 2012."
"Many content companies have live events, conferences, and tradeshows every year where they attract a spike of potential customers," said Drew Stein, Founder and CEO of DashBid. "We look at these events as important opportunities to activate their audience with a premium content-rich mobile app and then use ongoing content to engage and monetize those customers over the long term."
The 2011 CMJ Mobile Companion app is now available at the App Store and Android Market.
About Nellymoser
Nellymoser Inc. (http://www.nellymoser.com), a mobile technology company founded in 2000 and headquartered in Arlington, MA, creates instant, interactive consumer "engagements" on mobile phones. These range from contests and product videos to interactive multimedia engagements that can be shared on social media (e.g., Facebook, and Twitter) and include e-commerce for instant product purchases. Nellymoser's customers include leading publishers, advertisers, retailers, and consumer packaged goods companies. All companies and products listed herein are trademarks or registered trademarks of their respective holders.
About DashBid
DashBid (http://www.dashbid.com) is a web and mobile-based advertising technology that helps content companies to better monetize their online and mobile video. DashBid accomplishes this through an easy-to-use, self-service platform that allows advertisers and internal ad sales teams to directly package, price and deliver hyper-targeted video ads and mobile coupons across syndicated content using performance, social and consumption-based data and analytics.
About CMJ Network Inc.
CMJ Network (http://www.cmj.com) connects music fans and music industry professionals with the best in new music through interactive media, live events and print. CMJ.com offers a digital music discovery service, information resources and community to new music fans, professionals and artists. CMJ Events produces the legendary CMJ Music Marathon, the largest and longest-running music industry event of its kind, in addition to live events and tours across the US. The weekly music-business trade magazine CMJ New Music Report is the primary source for exclusive charts of non-commercial and college radio airplay. CMJ Access is an integrated marketing agency specializing in providing its clients unparalleled access to the college and young adult demographic and emerging music world.
###