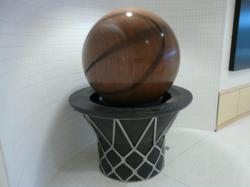 Benson, Arizona (PRWEB) October 27, 2011
Top Stone, Inc. has developed a complete line of Rolling Sphere Sports Fountains. Basketball, Baseball, Soccer, Volleyball and Dimpled Golf Ball Sphere Fountains. The Fountains are available in multiple sizes and models for Sports Stadiums/Complexes - Players - Universities and Sports Fans residences! . Examples can be seen at http://www.topstone1.com Tens of thousands of Kansas City Royals Baseball fans have played/viewed the Top Stone 4 foot Baseball Rolling Sphere Baseball Fountain over the past 2 seasons at the Royals Stadium. A prototype American Football that would spiral like a quarterback throwing a pass design is being finalized.
Top Stone also offers a complete selection of non-sports related rolling sphere fountains. A 3 minute video can also be seen on the website that further explains the technology and shows examples of self-contained, centerpiece with grating and/or pool fountain designs. 100's of video examples can also be viewed. The sphere can have the etching of the world where the sphere spins on its axis with the north pole going back to the north if left alone. Logo etchings on the different type self-contained base are also available.
The Rolling Sphere fountain can be totally interactive and can enhance Sports Complexes, City Parks, Hotels, Shopping Centers, Hospitals, Office Entries, Churches, Mediation Centers and Residences. Top Stone factory can ship worldwide and Top Stone can provide onsite final installation supervision, equipment, and drawings if needed. Top Stone offers phone, email, phone technical support and for small or large residential and commercial projects. Commercial models can be reduced down in size for homes for interior or outside fountain projects.
Top Stone also has another fountain website that offers hand carved Marble Arte such as Marble Fountains, Statues, Gazebos, Fireplaces, and more. Over 5,000 fine carved marble items can be seen at the Marble Arte website. We offer almost a complete line of art.
Please Call or email for further information on how Top Stone can become part of your next project or dream come true. For further details please visit our websites:
http://www.topstone1.com
http://www.marblearte.com
# # #