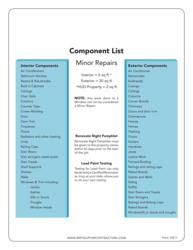 Lack of proper RRP documentation is the primary enforcement tool used by the EPA.
Madera, CA (PRWEB) October 22, 2011
How to test for lead videos and free customized EPA RRP compliance forms are just a couple of the many resources in the over 1100 page eBook by RRPHelpForContractors.com.
This first of its kind eBook regarding the EPA RRP Rule has filled a void of practical information for contractors, especially regarding RRP Compliance forms and signs.
Until now these required forms were hard to find or were very expensive and proprietary.
RRPHelpForContractors.com developed these compliance forms according the the EPA RRP regulations and had them formatted so that the contractor can personalize them with their own company information and logo, ending the need to have to buy them again.
EPA RRP Lead certification requires that you test for lead paint and document your work among other requirements. Learning how to do this will be the contractors best defense against EPA fines. The compliance forms below come with instructions on when and how to use them for EPA RRP Rule compliance. A list of the forms include:
Rules-At-A-Glance Flow Chart (determines if the RRP rules apply to the job)
Pre-Renovation Form
Record of Tenant Notification Procedures
Component List (describes which components may contain lead paint)
Lead Paint Test Authorization
Test Kit Documentation Forms
Lead Paint Practices Determination Worksheet
Non-Certified Worker Training Log / Participant Progress Log
RRP Quality Control Checklist
Cleaning Verification Post Renovation
Lead Safe Renovation Checklist
Renovation Notice Sign
Lead Warning Sign
Whether a company is currently EPA RRP certified or just hearing about this law, this e-book has been created to provide the information needed to be in compliance with the law, and avoid risking its business by incurring huge EPA fines, OSHA violations and/or potential lawsuits.
RRPHelpForContractors.com and this eBook were created by Valina Wisner. She is the President and CEO of Mold Solutions Inc, a EPA RRP certified and licensed California Contractor specializing in Asbestos, Lead and Mold Removal. She has over 15 years experience in the environmental remediation industry. Valina Wisner is certified by the State of California Department of Public Health as a Lead Supervisor and Project Monitor. She has conducted presentations on the EPA RRP Rule for local and national organizations.
RRPHelpForContractors
10710 Highway 41, Suite # 103
Madera, CA 93636
(559) 999-4170
# # #