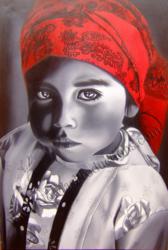 "Lands of unmatched colors, of unusual people and of surrealistic landscapes ... as Salvador Dali once expressed, of passionately vivid clothing and of unequalled creativity..." Cesar Plascencia
(PRWEB) October 24, 2011
While No Mas! has been designing and importing handcrafted furnishings, decor, and art to Atlanta since 1996, they are embarking on their first invitation of a Mexican artist to visit the U.S.A. Cesar Plascencia, a painter of oils on canvas in the photorealistic style, has accepted No Mas! Hacienda & Cantina's invitation to visit the U.S.A. and participate in Atlanta's Castleberry Hill 2nd Friday Art Stroll, November 11, 2011, which runs 7-10pm. His vivid, moving pieces, some already displayed in the No Mas! Hacienda showroom, depict the Mexican people and culture.
Mr. Plascencia has chosen No Mas! Hacienda as his exclusive representative for the state of Georgia. No Mas! will proudly host his collection of paintings, titled "Colores de Mexico" ("Colors of Mexico"). The works will be exhibited during the tandem celebrations of "Dia de los Muertos" at No Mas! on Nov. 2nd and GSU's Rialto Center on Nov. 3rd. The artist will be painting and communicating his inspirations to visitors both evenings and during the Nov. 11th Castleberry Hill Art Stroll (7 - 10pm) at No Mas! Hacienda. The collection will remain on exhibit for the entire month of November at both No Mas! and The Rialto Center for the Arts.
Cesar introduces his works:
"Tierra de inigualables colores, de gente sublime y de paisajes surrealistas como alguna vez lo dijo Salvador Dalí, de apasionadas vestimentas y de una creatividad sin igual, estos son temas que han existido desde siempre en nuestra gente y en nuestra tierra y que alguien en algún momento de la historia a captado en algún lienzo, escultura o mural y esto es lo que refleja la verdadera esencia del mexicano, de lo que vive y siente, de sus costumbres, tradiciones, sus fiestas, religión y todo ese mundo que cautiva y enamora a quien es parte de ello ; esta es la inspiración de este proyecto, esta es mi esencia , pasión y motivación...." Cesar Plascencia
[translated]
"Lands of unmatched colors, of unusual people and of surrealistic landscapes ... as Salvador Dali once expressed, of passionately vivid clothing and of unequaled creativity, these are subjects that have always existed in our people, in our land, they are the subjects that have been captured on canvas, in sculpture, and on walls; they are reflections of the true essence of Mexico, of how we live and feel, of our customs, our traditions, our celebrations, religion, and everything in this world that captivates and enamors those who are a part of it. This is the inspiration for this collection of my works, this is the essence, my passion and motivation...." Cesar Plascencia
While he is here in Atlanta, Cesar will be completing a very special painting of a small boy holding a candle at a traditional celebration of "Dia de los Muertos"; a beautiful and wonderful gift to see it realized during his stay here.
As economic and political challenges have interrupted normal exchange with our closest southern neighbor, No Mas! has proactively sought to enlighten their guests by bringing fine Mexican Art and Culture to Atlanta. They hope the reception in Atlanta to be filled with southern hospitality.
No Mas! Hacienda & Cantina, "The Best of Mexico" - Restaurant & Shopping, in historic Castleberry Hill, downtown Atlanta's art district, just half mile south of CNN. Award winning Mexican restaurant and adjacent huge showroom of handcrafted furnishings & accessories from more than 300 artisans in Mexico, with breakfast daily in ADios Cafe, and "All the Pottery in the World" in Bodega Garden. In its sixteenth year in Atlanta, this importer of handcrafted furnishings, lighting, accessories, art, and gifts, brings the culture of Mexico to Atlanta.
http://www.NoMasAtlanta.com 404-215-9769
###