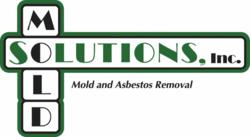 Mold and Asbestos Removal Financing for Homeowners!
Madera, CA (PRWEB) October 22, 2011
Mold Solutions Inc has teamed up with a financial partner to offer loans to homeowners in the Fresno CA area for mold and asbestos removal work.
When a homeowner has roof or plumbing leak that causes water or mold damage in their home, they will usually file a claim with their insurance company.
Many times they find that the loss is not covered due to the cause of the leak, especially in the case of mold damage. Very few insurance companies offer mold coverage and if they do, the coverage does not normally cover all of the costs. The typical cost for professional mold or asbestos removal work in residential homes is between $2,000 to $3,500 dollars.
In this tough economic economy many homeowners have a hard time coming up with the money needed for the work. Safe and professional mold removal involves containing the area with a airtight containment made of plastic sheeting and removing the asbestos containing or mold contaminated materials under negative air pressure to prevent the release of mold spores or asbestos fibers into other areas of the home.
Some homeowners will do the work themselves to save money or hire a handyman or regular contractor to do the work, not realizing the dangers that asbestos fibers and mold spores can cause to their health.
Mold Solutions uses trained and certified professional technicians for all of their work and is the only local mold and asbestos removal company where the owner of the company starts each and every job. They strongly believe that customer service and quality control is the most important asset to their business. They stagger their start times each morning so that the owner can personally go over the scope of work for each project with each supervisor and answer any questions that the homeowner may have before the work begins.
Mold Solutions Inc also specializes in and is known for saving property owners money for the re-construction work, after the mold or asbestos is removed.
An example would be a leak behind a kitchen cabinet that causes mold to grow on the walls behind the cabinet. With the years of experience that their technicians have, they can usually remove the cabinet intact, remove the mold contaminated materials from the wall behind the cabinet then clean and save the cabinet for re-installation after the drywall repairs are made.
They have completed hundreds of such projects and have saved homeowners and insurance companies thousands of dollars over the years.
All of their estimates are free in Central California.
Mold Solutions office is located in Madera, CA, just outside of Fresno on the Hwy 41 Business Route, and their service area includes Central California, from Bakersfield to Modesto.
For more information please visit their website at http://www.moldsolution.org
Or call (559) 440-9178
####