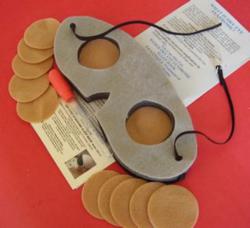 " Has helped my dry eye more than anything else. Thanks so much. :)"
(PRWEB) October 24, 2011
Many people who have Dry Eyes Syndrome go to bed, ready for a good night's sleep only to be kept awake for many hours by the pain and discomfort of this annoying eye problem. It is a malady that often prevents getting a good, restful night's sleep. The new Weber Dry Eyes Sleep Mask can provide automatic eye moistening all night long, while the wearer is comfortably sound asleep.
When this new moisturized, no light Weber Dry Eyes Sleep Mask is placed over the eyes, the wearer instantly eliminates dry eyes discomfort and pain. An extra benefit to the wearer is that no more sleep destroying lights can be seen should they filter into the wearer's bedroom. In this way, wearers of Weber Dry Eyes Sleep Mask discover that the room seems to be darkened while at the same time the wearer's eyes can be automatically moistened and made comfortable.
A plastic eye dropper is provided and used to moisten the pads in the eye holes in the Weber Dry Eyes Sleep Mask with the wearer's choice of either distilled water or plain bottled water that has been boiled and then allowed to cool to room temperature before use. The high humidity thus produced within the Weber Dry Eyes Sleep Mask provides an area, within the mask, that can take away the pain and discomfort of a wearer who is trying to sleep with annoyingly dry eyes.
When wearing the Weber Dry Eyes Sleep Mask, everything near the wearer's eyes should be kept as clean and sanitary as possible. The pads that hold the moisture in the recessed eye holes in the mask are held in place with Velcro fasteners. Those moistening pads can be removed, washed and reused as often as needed. It is important to always use clean, wet pads and clean cool water. Twelve extra moistening pads are included with each Weber Dry Eyes Sleep Mask.
When Weber was asked: "What kind of feedback do you get from your customers, he said:"
"Many people are surprised there is such mask available to help them, here is what they say:"
"Thanks!"
"Excellent transaction! Recommended Seller! Fast shipping!"
"Has helped my dry eye more than anything else. Thanks so much. :)"
"Good product for $. Quick turnaround. "
"Item arrived quickly and came with helpful tips"
"Good price, fast shipping thanks"
"Works great"
"Pleased w/item, transaction, & seller."
For more information write to: Originals By Weber, 338 Alabama Avenue, Toms River, NJ 08753 or call: 877-309-8382 or 732-864-0353 More details are also available on the following website:http://www.yrret.stirsite.com/dryeye.html
Price for the Weber Dry Eyes Sleep Mask (Made in America) is $24.95 (plus $3.60 s/h within USA) They are available for immediate delivery from Toms River, NJ. Satisfaction guaranteed or money back.
###