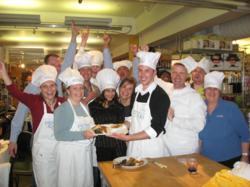 We're proud to be able to take our successful and growing company and make it that much more meaningful and powerful -- not just for us but for our clients and business partners, too.
San Francisco, CA (PRWEB) October 24, 2011
Parties That Cook®, the country's premier corporate team building and private cooking party company, became a Certified B Corporation last month, joining an elite but growing group of companies around the U.S. who are committed to meeting rigorous standards of social and environmental performance.
The certification was granted by B Lab, a nonprofit organization dedicated to using the power of business to solve social and environmental problems. To earn certification, Parties That Cook committed to and demonstrated higher performance standards that have an impact across all areas of business: their employees, suppliers, community, and the environment. The company's score in the employee category put them in B Lab's "Area of Excellence."
"We're proud to be able to take our successful and growing company and make it that much more meaningful and powerful -- not just for us but for our clients and business partners, too," says Bibby Gignilliat, the Founder and CEO of Parties That Cook. "You can feel good about working with Parties That Cook for all the best reasons now."
Because one of B Lab's goals is to make it easier for everyone to tell the difference between a good company and simply good marketing, Certified B Corporations are required to build these high and comprehensive standards into the legal structure of the company. Long term, the goal is to bring legal recognition to B Corp as a new corporate form (like a C corp or S corp) along with tax incentives, procurement preferences, and a social stock exchange for sustainable businesses. Six states (HI, MD, NJ, VA, VT, and just last week, CA) have already passed Benefit Corporation Legislation, and the city of Philadelphia passed a tax break for Certified B Corporations in December 2009.
Parties That Cook originated in San Francisco, and has steadily grown to serve four major U.S. markets, including San Francisco, Chicago, Seattle, and most recently, Portland, Oregon. Its mobile cooking parties and innovative corporate team building events, taught in private homes and professional kitchens by accomplished chefs, create an atmosphere of camaraderie and collaboration - perfect for companies looking to increase internal ROI and productivity by working together more efficiently, boosting morale, and rewarding employees.
"Our company model is based on such positive, collaborative values that it only made sense for us to seek to formalize and expand that through becoming a B Corp," says Gignilliat. "As a small business, we have limited resources, but we've been able to offer robust benefits and equity compensation. Because our business is about cooking, we're able to impact our clients not only in their professional lives, but also their personal lives, offering cooking skills for healthy living in an age when so many people don't cook anymore or have never been taught."
About Parties That Cook
Parties That Cook stages deliciously fun cooking parties and corporate team building events in private homes and professional kitchens throughout the San Francisco Bay Area including San Jose and Wine Country, Chicago, Seattle, and as of September 2011, Portland, Oregon. Founder & CEO, Bibby Gignilliat, pioneered the mobile cooking party concept in 1999, and extended the company's hands-on, interactive culinary events to include a wide array of corporate team building activities, cooking parties and cooking classes. Parties That Cook is proud to be a Certified B Corporation. For more information or to book a group cooking event, please visit http://www.PartiesThatCook.com or call 1-888-907-2665.
###