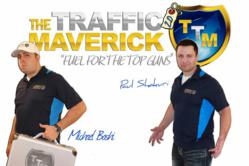 Traffic Is Infinite When Done Like A Maverick
Manhattan, NY (PRWEB) October 24, 2011
An internet based tutorial has been launched by Mr. Michael Bashi to teach how a simple pay per click marketing program can provide targeted website traffic for a business. He has already developed a more comprehensive 14 module program in the past, called "The Traffic Maverick". The course contents are very easy to understand and can be followed by anyone.
Talking on the occasion of this launch, the author mentioned that his prime objective is to help millions of aspiring businessmen all over the world. He also added that he has himself tried these methods to achieve phenomenal success.
Pay Per Click Marketing is most probably the most talked about one amongst all present day website traffic marketing programs. The well known Pay Per Click programs like Google ad-words etc are highly expensive and the benefits are always uncertain. The author states very clearly that, "Nobody really knows how to beat the pay per click game, especially Google ad-words".
According to him, Pay Per Click Marketing is just a method of trial and error that has no secrets attached to it. He has also advised to stay away from the so called "cures" available in the market because Google has enough resource to crack these programs. The only way to succeed in a Pay Per Click program is to keep testing until the desired result is achieved.
In spite of such limitations, Pay Per Click Marketing is extremely popular because it can provide the targeted website traffic that is critical to the success of any business. All of these may not get converted, but these traffics are helpful to evaluate the business. According to Mr. Bashi, live results can be obtained within 15 minutes. A well executed Pay Per Click program can help a business increase the conversion by making the necessary changes. Most importantly, these programs can also be executed within a very tight budget.
The author has admitted without hesitation that no one can claim to be an expert in this field. He has explained the procedure with the example of a Pay Per Click campaign that he himself ran for a month to make a profit of $2600. He received 1013 visitors during this period which led to as many as 34 conversions. He was only spending around $6 to $10 per day to make this profit. Mr. Bashi has high expectations on this new learning program and he expects this module to be as successful as the previous modules.
About the Company: "The Traffic Maverick" is an internet based training course that offers easy tips for the success of any business by website traffic maximization. The entire concept has been developed by Ontario based internet marketer Mr. Michael Bashi. Please visit http://www.thetrafficmaverick.com to know more about the company and its service.
Contact: 626-242-2678
Zip Code: N9E 1S3
http://www.http://www.thetrafficmaverick.blog
###