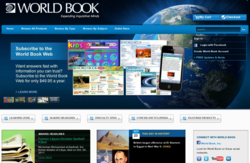 We are thrilled to expand our offerings through the new www.worldbook.com, which enhances World Book's ability to deliver free content, services, and products to people around the world
(PRWEB) October 25, 2011
World Book, Inc. today launched the newly redesigned and enhanced worldbook.com, offering free content for all ages; exciting new products for homes, public and school libraries, and school classrooms; and expanded functionality enabling users to easily interact with content, products, and services.
The NEW worldbook.com
The new worldbook.com features multiple interfaces designed to effectively serve the diverse needs of students and families, schools and libraries, and inter-national users. New free content features offer homework help, educational multi-media, interactive activities, quizzes, and games, and other learning resources to engage learners at every level. A vastly improved shopping system ensures that World Book customers can easily find and purchase essential resources for their home, school, or library.
"For 95 years, World Book has set the standard for quality learning products for homes, schools, and libraries. We are thrilled to expand our offerings through the new http://www.worldbook.com, which enhances World Book's ability to deliver free content, services, and products to people around the world," said Don Keller, president of World Book. "Through the new worldbook.com and our related social media outreach efforts, World Book can build exciting and meaningful relationships with users and offer new products tailored to meet the ever-changing needs of the home and educational markets."
Excite learning with a wealth of free content
At the heart of the new worldbook.com are lots of free content features that are updated regularly to consistently engage and entertain users. Among the new content features located in the Learning Zone are:
Making Headlines: Relevant educational content and multimedia linked to a recent and important news event.
Content Spotlight: Explore in-depth features that use World Book content and multimedia to explain topical events and themes related to core school curriculum. New Content Spotlight features include: The History of Halloween, The Salem Witch Trials, The History of Thanksgiving, and The 10th Anniversary of the Sept. 11, 2011 Terrorist Attacks.
Animal of the Day: Learn amazing facts about animals and nominate your own candidate for the coveted title of World Book's Official Animal of the Day. If your animal is selected, you will receive a special message from the animal!
World Book Explains Videos: Get answers to your questions with this entertaining and educational video series that features experts in various fields answering questions submitted by students.
Scavenger Hunts: Learn how to use World Book products through these fun, interactive activities.
Learning Activities: Reinforce learning with these downloadable activity sheets that test student knowledge on a variety of topics.
Science Projects: Stimulate hands-on learning with these step-by-step instructions for fun science projects and kid-friendly experiments.
Fun Facts: Explore a collection of interesting facts on every imaginable topic.
Trivia Quizzes: Test your knowledge with this growing library of interactive quizzes for kids and adults.
Enhanced shopping experience
The new worldbook.com offers World Book's full line of products for schools, public libraries, and homes. On first visiting the site, a customer simply identifies her- or himself as a school/library or home user. The shopping experience has been greatly enhanced, offering an expanded view of all World Book products, including product videos, downloadable multi-media presentations, curriculum correlations, and inside-look slideshows.
New products designed exclusively for home use
With the launch of the new worldbook.com, World Book is introducing a new line of products designed exclusively for the home market, including World Book's Excel-in-School Program, a school readiness system that addresses the essential early childhood concepts to help children excel faster in school.
"Whether you are a student, a parent, an educator, or a life-long learner, you'll find the resources you are looking for on worldbook.com," said Keller. "World Book is committed to aggressively enlarging our free content and product offerings and actively seeking feedback from our users to make worldbook.com the go-to source for accurate and reliable learning resources."
Register now for coupons, content alerts, and special offers
Registered users of worldbook.com will receive exclusive savings on World Book print and digital products and updates about new content, activities, and multimedia. Register today at http://www.worldbook.com.
About World Book
World Book, Inc. sets the standard in publishing accurate, current, and reliable reference and learning materials for children and adults. Based in Chicago, World Book is committed to creating educational products that meet the highest standards of editorial excellence in print and digital forms. This commitment has resulted in a wide range of products including the quintessential The World Book Encyclopedia; the World Book Web, a comprehensive and authoritative online solution meeting the diverse information needs of students, educators, public library patrons, and families; and World Book Classroom, innovative and effective teaching resources to improve learning in libraries, classrooms, and at home. World Book, Inc. (http://www.worldbook.com) is an affiliated company of the Scott Fetzer company, a subsidiary of Berkshire Hathaway, Inc. Connect with World Book at facebook.com/WorldBook or twitter.com/worldbookinc.
Names are trademarks of their respective organizations.
Contact:
Jennifer Parello, 312-819-6558, jennifer.parello(at)worldbook(dot)com
# # #