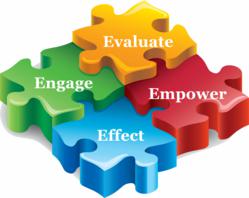 We will target and reach into populations to provide innovative, tailored individual solutions that will provide those in need of support with the highest level of professional caliber assistance.
Dallas, TX (PRWEB) October 24, 2011
Today marks the official launch of E4 Health (http://www.e4healthcare.com), providers of employee assistance programs and behavioral health risk management programs developed to address a fundamental need shared by corporations, organizations, and health plans alike: increasing efficiencies, improving outcomes, and lowering healthcare costs through more focused service delivery. E4 Health combines proprietary assessment technology with the behavioral expertise of EAP professionals to deliver tailored risk management programs focused on the individual behaviors that drive lifestyle decisions. E4 Health improves an organization's ability to reach, engage, and motivate employees by greatly enhancing their ability to identify risk and pinpoint where time, attention, and resources are best invested to effect positive change.
The founders and executive partners of E4 Health, Bill Mulcahy and Cindy Sheriff, have worked together for the past seven years during which time they successfully grew Horizon EAP Services to the third largest EAP in the nation (it was then acquired by Aetna). E4 Health represents their shared vision and passion for integrating solutions, improving delivery, and maximizing outcomes. Together, they will focus on driving the company's client acquisition and business corporate oversight. Tom Sawyer, Ph.D., will serve as Senior Vice President, Clinical Strategy, and lead E4 Health's clinical product strategy efforts, focused on integrating behavioral-based population health management solutions and clinical excellence.
Today also announces E4 Health's acquisition of Sobel & Raciti Associates, Inc. a leading EAP provider. Harry Sobel, Ph.D., will serve as Senior Vice President, Client Services, overseeing client account management, sales/marketing initiatives, and healthcare consultation. Michael A. Raciti, Ph.D., will serve as Senior Vice President, Clinical Operations, directing daily operations and overseeing infrastructure development. The transition for Sobel & Raciti customers will be seamless and transparent with contact information and services remaining the same. In the coming weeks, additional resources will be made available through E4 Health.
"Our business objective is to match quality managers with proprietary opportunities," said Ruben King-Shaw Jr., Board Member of E4 Health. "Bill and Cindy are a great management team with a proven track record, great vision, and broad expertise. We are investing considerable resources in E4 Heath to acquire best in class EAPs and build a next generation behavioral health company capable of reducing healthcare costs in the U.S."
"Today's workforce is under tremendous pressure and, in most cases, is just trying to keep its collective head above water," said Bill Mulcahy, CEO, E4 Health. "People need help and, all too often, responsive EAP type benefits are not readily available or easy to access when needed most. Our approach is different: we will target and reach into populations to provide innovative, tailored individual solutions that will provide those in need of support with the highest level of professional caliber assistance. This is what fundamentally differentiates E4 Health where we deliver real value to our clients; especially now when having a healthy and productive workforce is critical to competing successfully in a global economy."
"At E4 Health we transform individual wishes to be healthy into reality through innovative programs delivered with passion and precision by people who care," said Cindy Sheriff, President and COO, E4 Health. "The landscape of healthcare is changing and E4 Health will become a leader in driving this change to position positive lifestyle choices, which will ultimately decrease healthcare demand. Being a part of an organization grounded in the values of compassion and care has always been the driving force of my career. As we grow E4 Health into a premier provider of healthcare services, these values will remain constant. The E4 Health team is committed to this mission and I am honored to be part of the team."
"We are excited to join E4 Health and share their vision for a fundamentally transformed EAP, where the focus is on affecting individual behaviors and effecting positive change," said Dr. Michael Raciti and Dr. Harry Sobel. "Joining E4 Health underscores our commitment to exceptional service and value, and providing an integrated, total approach targeting expertise and resources where they are most needed—where they will deliver the most dramatic results."
About E4 Health
E4 Health leverages behavioral health expertise to deliver superior service, more efficient administration, personalized initiatives, improved outcomes, and lower client costs. We believe that an individual's lifestyle choices are the strongest predictors of a successful journey towards productivity, happiness, and health. The company is committed to providing behaviorally based services that empower individuals and corporations to thrive. For more information, visit http://e4healthcare.com, or email info(at)e4healthcare(dot)com.
About Kinderhook Industries
Founded in 2003, Kinderhook Industries is a private equity firm that manages $770 million of committed capital. The firm was established to capitalize on the principals' expertise acquiring middle market companies. Kinderhook primarily makes control investments in companies with transaction values of $10-$75 million where the firm can achieve significant financial, operational and growth improvements. The firm targets orphaned non-core subsidiaries of corporate parents, existing small capitalization public companies lacking institutional support and management-led recapitalizations of entrepreneur-owned companies. For more information, go to http://kinderhookindustries.com/.
# # #