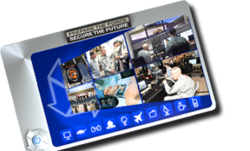 Orlando, FL (PRWEB) October 26, 2011
Over a half-million total square feet of floor space will be occupied by virtual worlds, live enactments and synthetic operating environments in healthcare, disaster response, law enforcement and many other critical training areas at this year's I/ITSEC, taking place at Orlando's Orange County Convention Center.
600 corporations, research organizations, government and military organizations, and academic institutions will showcase the latest developments in live, virtual and constructive training technologies.
On display will be virtual worlds populated by avatars, creating immersive training environments ranging from hospital ERs to small unit military actions. Virtual simulations, featuring total sensory inputs, will provide training environments which are indistinguishable from reality. Other environments will be live, including a mock Afghan village which is used to provide cultural acclimation for forces operating in those environments.
Numerous papers on a wide range of topics including human performance, robotics, acquisition and education will be presented and discussed in special sessions. In addition, a number of special events will focus on key areas such as haptics and remote surgery, warfighters' experiences with training and lessons learned in theater, joint training methodologies and the latest emerging concepts in modeling, simulation and virtual reality.
I/ITSEC will also feature a serious games competition at which games in several categories compete in various classes. The use of simulation in healthcare is expanding exponentially, and as a reflection of this, I/ITSEC this year will also feature an expanded Healthcare Pavilion, where exhibitors in a broad array of medical, research and healthcare fields will be concentrated.
For more information on I/ITSEC 2011, visit the web site and be certain to visit the You Tube channel at NTSAToday for a look at last year's I/ITSEC.
###