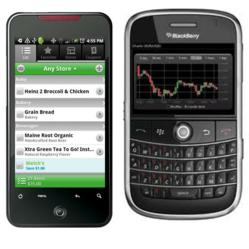 This is a great device for people that need to stay tethered but need to workout..
Bozeman, MT (PRWEB) October 26, 2011
The Polar Wearlink Bluetooth transmitter turns an Android or Blackberry into a very accurate heart rate monitor as long as you use Runkeeper, Cardio Trainer or Endomondo apps. If one of these compatible apps is not deployed then the transmitter will not communicate with your Bluetooth Smartphone.
This device is not compatible with current Polar heart rate monitor watches and bike computers. This device is compatible with the Android Smartphone and the Blackberry, however it is not compatible with the iPhone. It works with Runkeeper, Cardio Trainer and Endomondo apps. It is important to keep in mind that the Polar Wearlink Bluetooth transmitter will not work with an Android or Blackberry if one of these compatible apps is not purchased.
"This is a great device for busy people that need to stay tethered but need to work out", says Rusty Squire, President of the Heart Rate Watch Company. He continues, "It doesn't replace a more serious devices for serious athletes - like GPS watches and bike computers - but it can help more casual athletes keep track of their fitness".
For busy people on the move that have to have their Smartphones with them always this technology eliminates the need to have a second device - like a heart rate monitor watch. To use these devices for running users will need to think of a carrying alternative like an armband or waist belt for their Smartphone.
When it comes to specialty chest straps that use the very best in cutting edge
technology Polar is the industry leader. Polar has built chest straps expressly for the Nike-plus system and with the Bluetooth chest strap enters the market for Bluetooth fitness devices. While iPhone fitness adapter devices got a faster start expect to see Android apps make a big surge in 2012.
What makes a Polar strap better than other competing straps? "Quite simply, Polar uses patented heart sensing fabric technology that allows it to make all of its straps out of soft, supple fabric making for the most comfortable chest strap available on the market today." says Squire. He adds, "Polar also offers the user changeable batteries on the transmitter and these features are what makes Polar chest straps better than the competition."
Want to make that Android or Blackberry into a heart rate monitor for exercise? If so, this new Polar Wearlink Bluetooth transmitter poses a great solution for Smartphone owners on the go.
# # #