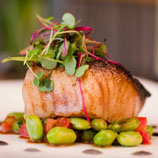 Eating well in older age does not mean having to compromise a fine dining experience.
Chicago, IL (PRWEB) October 26, 2011
The results of a recent study by the University of Maryland indicate that individuals should not give up eating nutritious foods as they age. This is a fact not lost among the executive chefs who oversee menu planning and meal preparation for residents living at a Vi continuing care retirement community.
Vi chefs have received customized training by the Culinary Institute of America on nutrition, healthy cooking and baking techniques, flavor dynamics and food and wine pairing. And, because Vi offers menu selections that are generally lower in sodium, fat and sugar – yet high in flavor – the cuisine satisfies body and palate, enabling residents to eat well and always dine in style.
The 10-year study conducted by the University of Maryland examined the eating habits of approximately 2,500 test subjects between the ages of 70 and 79. The study suggests that older adults in their 70's who eat healthy foods increase their longevity.
Eating well in older age does not mean having to compromise a fine dining experience, according to the Vi executive chefs.
"We focus on texture, flavor and digestive health needs," said Jeffrey Weston, executive chef at Vi at Silverstone in Scottsdale, AZ. "Simply put, my culinary philosophy is fresh, quality ingredients prepared well."
Anthony Santomauro, executive chef at Vi at Lakeside Village in Lantana, FL, says when he cooks fish, he always make sure it's the freshest fish that is available: flounder, grouper, yellowtail snapper, ahi tuna or U8 scallops. "When it comes to creative cooking, I have always been inspired by fresh fish," he said.
Also found in Florida is Vi at Aventura, where executive chef Robert Ibgui said a Thursday evening chef's menu gives him a chance to provide the residents a gourmet experience. "I use as many seasonal products as I can and I also get ideas from the residents," he said.
Shep Drinkwater is executive chef at Vi at the Glen in the northern Chicago suburb of Glenview. "We keep our menus fresh by changing specials daily and changing everything else we can as much as possible while always offering a quality product," he said.
"Our residents enjoy the comfort foods," said Vince De Mar, executive chef at Vi at Grayhawk, also in Scottsdale. "However, many of them desire a greater variety in their diets and enjoy stepping outside the box on occasion. I get great enjoyment when I'm able to display my passion and creativity through my food."
Jim Smith, executive chef a Vi at La Jolla Village in San Diego, CA., said older adults may have aging palates, but they still enjoy different things and variety when it comes to their dining experience. "Fresh ingredients and top quality beginnings will yield great results on the plate," he said. "I also instill quality in my sous chefs and cooks. If it doesn't look right, don't serve it."
At Vi, menus offer a wide variety of options to suit residents' tastes and preferences, including regional favorites, traditional home-style meals and new recipes. Each community features stylish dining venues and elegant private dining rooms are perfect for parties and special occasions.
Vi, formerly Classic Residence by Hyatt, was founded in 1987 as a developer, owner and operator of older adult living communities. The company is dedicated to enriching the lives of older adults by providing high quality environments, services and care. Vi currently operates ten continuing care retirement communities (CCRCs) and nine rental communities under a family of brands nationwide. For more information about Vi communities, visit http://www.ViLiving.com.
# # #