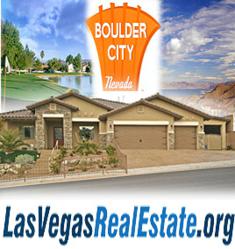 Boulder City Nevada Homes Benefiting From Demands On Las Vegas Real Estate Market
Las Vegas, NV (PRWEB) October 24, 2011
Boulder City Nevada real estate has been holding its ground for the last year on sales according to data confirmed by LasVegasRealEstate.org. Boulder City is located 20 miles outside Las Vegas close to Hoover Dam and Lake Mead Recreation Park. Its small town feel and low population of 15,000 population is a draw to retirees and families looking to access all the amenities of Las Vegas without being in the city.
Ashley McCormick of Realty One, Nevada's largest real estate Las Vegas company, says most of her contacts for Boulder City are retirees who have already done their research and want the health care, entertainment, shopping, and dining experience of Vegas without living in Las Vegas itself. While Boulder City has made several top 10 lists for retirees to include Money Magazine, its competition is just a drive away as it competes with four Las Vegas Sun City developments.
McCormick says the decision to live in Boulder City or Sun City comes down to lifestyle. Boulder City offers a private and public golf course, city pool, and endless walking and biking trials with an average sales price for a 2 bedroom at $126,000. Las Vegas Sun City communities on the other hand are active adult lifestyle communities that offer recreation facilities, golf courses and community events and homes can now be purchased for under $100,000.
Las Vegas homes and condos have long been a part of retiree portfolios looking to escape harsh winter weather and enjoy affordable housing. McCormick says that now these homes are becoming hubs for retirees looking to recover financially and invest in cash flow properties. A new trend is showing retirees and investors buying multiple rentals from Las Vegas high rise condos to the standard three bedroom family Las Vegas homes as Trulia research confirmed by LasVegasRealestate.org currently has Vegas ranked #1 in the US for price-to-rent ratio with investors making immediate cash flow from their rental properties.
McCormick, who has been in the Las Vegas real estate market since 1995, encourages her clients to do their research and take advantage of the current market conditions. Las Vegas is currently at 20 year lows and last month had a record breaking month for sales. Due to investor investor interest, McCormick has recently added a Toll free number for foreign buyers and and of state clients and can be reached at 1-888-920-2292. Boulder City Nevada real estate and all 15.000+ MLS Las Vegas real estate listing can be searched at http://www.LasVegasRealEstate.org
###