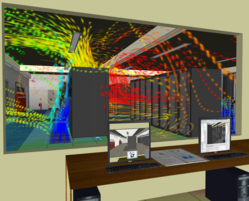 DCIM and CFD software will become more important as data center complexity increases.
San Jose, CA (PRWEB) October 25, 2011
"As the complexity of data centers increases, advanced DCIM and CFD software such as 6SigmaDC will play an increasing role in ensuring the reliability of IT service delivery, as well as the efficient and effective operation of critical facilities," said Sherman Ikemoto, General Manager of Future Facilities Inc. "The 6Sigma DC Data Center Conference and User Group offers the experience of high profile data center owners and operators such as Facebook and Intel, and the perspective of The 451 Group – a leading analyst and commentator serving the data center industry."
With registration for the event open for a further 3 weeks, Future Facilities has announced the addition to the speaker panel of John Stanley, Research Analyst for Eco-Efficient IT at The 451 Group. The analyst has forecast that enterprises will widely adopt DCIM software in the coming years: "The main drivers of investment in DCIM software are economic, improved availability, and improved manageability and flexibility," said John Stanley.
The 451 Group will present an overview of this rapidly evolving market, provide clarity regarding the business impact of the use of DCIM applications, and show how DCIM solutions are evolving toward a common set of objectives. Particular focus will be placed on the role played by CFD modeling within the DCIM tool set as a means to close the communication gap between IT and facilities operational practices – a key motivation for its use.
In addition to the presentation by John Stanley, the Conference, which is set the day before 6SigmaDC Training Days, and which is open to 6SigmaDC users and non-users alike, will include the following speakers:

Chuck Rego, Chief Architect, Intel Corp.
Veerendra Mulay, Thermal Engineer, Facebook
Guy Ruddock, VP Operations for Data Centre Services at Colt
Peter Rumsey, M.D. & Principal of Integral Group
Dan Dyer, Project Manager at DLB Associates
The full 6SigmaDC Data Center Conference Program, including presentation abstracts, is available online at http://www.futurefacilities.com. The Future Facilities 6Sigma DC Data Center Conference and User Group takes place at the Marriott, Union Square, San Francisco from November 15th – 17th 2011. For an overview of the event and to register, please visit the the event webpage.
About Future Facilities
Future Facilities (http://www.futurefacilities.com) is a leading provider of powerful design, optimization and management software for data centers and electronics. The company's solutions are applied to ensure all capacity, efficiency and reliability criteria are met throughout all phases of the facility lifecycle.
Press Contacts
Future Facilities Inc.
Sherman Ikemoto
Tel: +1 408 436 7701
Email: sherman(dot)ikemoto(at)futurefacilities(dot)com
Alexandra Bannerman
Tel: +44 207 840 9540
Email: alexandra(dot)bannerman(at)futurefacilities(dot)com
###