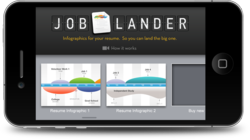 In light of the lack of a jobs bill from Washington, we're offering JobLander free until we see some positive movement.
New York City, NY (PRWEB) October 24, 2011
Getting a job is not as simple as it used to be. With thirteen million Americans currently unemployed and competing for that rare opportunity, the prospects of the average person landing a good job has become astronomically dismal. With few signs of economic recovery in sight, landing a good job takes indomitable will and sometimes a fresh infusion of creativity. Fortunately an ingeniously clever iPhone app called JobLander is helping even the most creatively challenged market their skillsets and credentials in an entirely new light.
JobLander is the first iPhone application that helps job seekers highlight their resumes using highly customizable infographics. After downloading JobLander from Apple's app store, users can create stunning graphical representations of work experience, career growth, and educational background in a matter of minutes. In just a few taps, job seekers make their resumes easier to understand - and more memorable, since the infographics are sized to fit perfectly into an existing resume, providing a stunning snapshot of the value an applicant can give to a potential employer.
"As someone who has screened, interviewed and hired over a hundred employees in the past decade, I would estimate that 99% of applicants use a "conventional" resume," stated GP Miller of Sparkriver, JobLander's developer. "Every now and then, a resume that is out-of-the-box will come across my desk, and that says to me that this person is unique and deserves further consideration.
JobLander does two important things in the recruitment process:
1) it clearly differentiates an applicant from the horde of other people vying for a particular job; and
2) it helps employers create a shortlist of people who are equipped with the right tools for tackling the challenges of the future.
JobLander does both by helping applicants create a distinctive, world-class resume, setting it apart from run-of-the-mill varieties that are sent by the millions across job networks worldwide, which significantly increases the chances of an applicant being noticed and considered in earnest by the employer.
"The very fact that a candidate would create an infographic to highlight their resume makes a powerful statement about the kind of person they are." added Miller.
The app is so flexible even non-job applicants such as business owners and independent professionals can use it to craft stunning graphical narratives of what they can offer to their prospective clients.
In light of the lack of a jobs bill from Washington, JobLander is being offered as a free app download – no strings attached. For more information, visit http://www.JobLander.co.
About JobLander:
JobLander is available for iPhone and iPad free (until a jobs bill is passed) in the App Store. It was developed by SparkRiver, a digital innovation firm located in Boca Raton, FL that creates breakthrough apps and helps companies revolutionize their brands, their marketing, and their bottom line through integrated digital solutions. The team at SparkRiver are 15-year veterans of the advertising and tech industries. They provide strategy, marketing, and technology solutions. Learn more at http://www.JobLander.co and http://www.SparkRiver.co.
Media contact:
GP Miller
SparkRiver
855-772-7574
gpmiller(at)sparkriver(dot)co
###