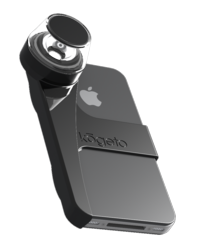 New York City, New York (PRWEB) October 25, 2011
Kogeto today announces that Dot™, the world's smallest panoramic video camera accessory for the iPhone 4 and 4S, is available today. This new way to capture the world around you and share panoramic video with family and friends will retail at $79 and is available now at Kogeto.com and multiple online retailers. Dot will also be available in Apple Stores nationwide starting on November 1.
Dot's compact and durable design makes it the ideal panoramic video camera for capturing panoramic Dotspots™, in addition to sharing with family and friends on social media platforms like Facebook and Twitter. Dot does not require batteries or external power. Dot also features the least obtrusive design, adding no significant weight to the phone.
Dot works with the iPhone's 4 and 4S improved video capabilities to capture full 360-degrees and seamlessly integrate the video into an easy to share format without stitching frames together. Kogeto's proprietary iCONIC™ catadioptric optical system is fully AR-coated for the best color fidelity in iPhone panoramic video and offers the highest resolution.
Dot users download a free iPhone application called Looker™ that processes and de-warps the panoramic images captured. Dot will be available in multiple colors and is accompanied by a microfiber pouch that doubles as a lens cloth.
Dot and all Dot components are designed and manufactured in the U.S.
About KOGETO
Kogeto designs ways for professionals and enthusiasts to enjoy high-quality panoramic video. Kogeto is the maker of Dot™. Dot is the world's smallest 360-degree panoramic video accessory for the iPhone 4 and 4S. Dot works with the iPhone to capture fully immersive, panoramic video that users can share with friends on social networks like Facebook and Twitter, or shared on Kogeto's video platform Dotspots. Additional information can be found at kogeto.com and facebook.com/Kogeto or follow @Kogeto on Twitter and follow us on our Tumblr blog, kogeto.tumblr.com.
# # #