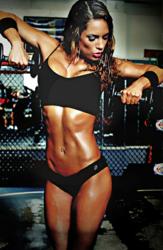 Miami, FL (PRWEB) October 24, 2011
Jennifer Nicole Lee has recently released her latest JNL Fusion workout challenged called the "I Dare You" exercise routine. In her workout video, she dares all to be their best, live out their dreams, push themselves physically and mentally, and to never give up. This latest "I Dare You" JNL Fusion workout challenge is the last content of many that JNL has released via her youtube channel at http://www.JNLYouTube.com.
By way of background, Jennifer Nicole Lee is the creator behind the revolutionary workout method called JNL Fusion. JNL designed this specialized workout program to help not only her celebrity clients get maximum results in minimum time, but also to help her keep and stay in shape. JNL Fusion is possibly superior to other workout methods in many ways. Time efficiency, keeping the body guessing, total body toning, and athletic conditioning are listed as some benefits to this practice. JNL Fusion is not a fad, but a fierce fitness revolution, sweeping the world one country at a time.
To date, this exclusive method is only available by Jennifer Nicole Lee herself, and also her 25 JNL FUSION Master Trainers, which she certified one by one. This method is so in demand, that JNL recently signed a huge mega production deal, where she filmed all of her Fusion workouts, putting them into a complete 12 exercise DVD set, soon available for purchase at http://www.JNLFUSION.com.
The 2nd Annual JNL FUSION World Conference will be held on a private resort on Miami's South Beach on January 13-16, 2011. Applications are pouring in, but only a hand full will be selected, as JNL states "I will be extremely careful in selecting the future trainers of my JNL FUSION method. I am looking for the best leaders, coaches, fitness professionals who are just as passionate about JNL FUSION as I am. They need to be dedicated JNL FUSION Ambassadors, who will take the method back to their country and certify the next generations after us. It truly is a movement and history in the making."
As it's apparent in her latest video workout, JNL is extremely adamant about motivating the masses, as she dares all to take her workout challenge, and to live the life that they love through fitness. For more, visit http://www.youtube.com/watch?v=i32haaUvzsU.
# # #