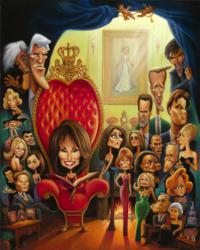 Tampa, FL (PRWEB) October 25, 2011
Nationally known pop-culture artist David O'Keefe http://www.davidokeefe.com has completed his newest piece-"Tribute to Pine Valley" immortalizing the families of "All My Children" the soap opera that has captivated audiences for over 41 years.
O'Keefe videotaped segments of the painting process so collectors can view the development of the piece over the 2-month timeline. You can view the video at http://www.davidokeefe.com.
"All My Children" has been apart of my family's life for so many years, I feel a real connection to all these people," said O'Keefe, Artist. "I want to capture those precious memories by creating this tribute piece to honor the impact the show has had on our culture. "
"This is a very historical and personal piece for David," said Wayne Curtiss, Managing Director of O'Keefe Studios," and we look forward to viewer feedback on the painting."
"David is one of the best kept secrets in the art world," said Craig A. Fleming CEO/President of Tired Walls Inc., based in Orlando Florida. "His transformative style not only brings new life to the images he paints but also reminds you of the pure genius in his work."
Just in time for the holidays, this heirloom image will make a memorable piece for generations to come.
About David O'Keefe Studios
David O'Keefe was raised on Hollywood, sports and rock and roll music. David has an acute awareness for the images and personalities that have colored the lives of his generation. He just sees things differently – more intensely, edgier, somewhat more perspicuous than the average spectator. The pop culture icons that we idolize, glamorize and glorify, O'Keefe visualizes for us in all their humanness as well as their stardom.
His sardonic caricatures and humorous illustrations have appeared on the covers of Sports Illustrated, Sports Illustrated for Kids, Mad Magazine, The Village Voice and within the pages of TIME. His advertising clients include Coca-Cola, Waffle House, Fuji and SunCom Communications.
O'Keefe has won numerous awards from such organizations as The Society of Illustrators (NY and LA), American Illustration, Communication Arts, National Headliner Awards, Dimensional Illustrators and the Society of News Design.
Recent image releases include tribute to: Godfather I & II, Caddyshack, Animal House, Seinfeld, I Love Lucy and the Beatles.
To schedule an interview with David O'Keefe contact Wayne Curtiss at David O'Keefe Studios. Phone 813-842-2682.
# # #