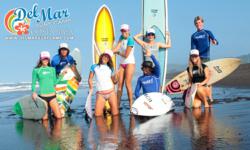 More than ever, customers are lining up to rediscover their vitality of life, one active vacation at a time. - Maria Del Mar, Owner, Del Mar Surf Camp
Playa Hermosa, Costa Rica. (PRWEB) October 26, 2011
Del Mar Surf Camp announces their last Surf, Detox and Yoga Retreat of the year from December 2 – 9, 2011 located in luxury beachfront villas of central pacific, Costa Rica. They are the pioneers of surf camp vacations incorporating lifestyle and nutritional changes to revolutionize the industry of vacations and retreats. More than ever, customers are lining up to rediscover their vitality of life, one active vacation at a time. This year, Del Mar Surf Camp is ready to meet that demand with the exciting introduction of two new companies.
DEL MAR EXTREME – Sport, Adventure & Fitness Vacations
With the growing popularity of Stand Up Paddling, also known to some as "SUP", Del Mar Extreme is the first to offer Stand Up Paddle lessons and tours in Playa Hermosa, Jaco. While seemingly less intense than surfing, Stand Up Paddling is a sport created by pro-surfer Laird Hamilton to work out the body's core muscles, while establishing balance and momentum on a long board. The Del Mar Extreme vacation package incorporates several fitness based adventure tours such as stand up paddling, to allow you to enjoy being in Costa Rica without feeling like you are at a boot camp. Other sport adventures include: Mountain Biking, Kayaking, Power Walks & Hikes. So, whether you are a surfer, office worker, parent, athlete – Del Mar Extreme's only goal? Making sure you feel better about yourself through exercises of the mind, body and soul.
DEL MAR SURFING ACADEMY – Surf Camp For Kids and Teens
It's no surprise when recent day popular culture singles out the growing obesity program in the youth today. By incorporating a social environment, culture immersion and surfing, Del Mar Surfing Academy's surf camp targets kids and teens worldwide to challenge themselves in a weeklong excursion of self-discovery – a new physical kind of self discovery. Business owners, camp directors and moms – Maria Del Mar Alfaro and Bettina Del Rio, found themselves as teens because of surfing and today, they want to share this passion with new generations. They are confident that by putting this program together for the kids & teens: learning new skills, speak a different language, discover a new culture, trying out new sports, falling in love with nature and wildlife, while in the company of others all around the world – that this experience will change the lives of the youth, in ways they never thought was possible of themselves. Watch Video of Last Surf Camp at Del Mar Surfing Academy with a group from Florida, USA.
ABOUT DEL MAR SURF CAMP
Founded in 2003 by local Costa Rican, Maria Del Mar, Del Mar Surf Camp has evolved from an exclusive all womens surf camp to a full grown surf school, surf camp and surf tour operator for all ages and groups. Now, expanding into surf and yoga retreats, fitness vacations and youth surf camps, Del Mar Surf Camp only hopes to impact more people and develop the proper tourism standards for Costa Rica. Passionate about her country, Maria Del Mar sheds light into how to choose the right surf camp and what it means in terms of certifications, quality, insurance and peace of mind for all tourists. All companies are operational all year long in Costa Rica and located in Playa Hermosa, Jaco and Playa Guiones, Nosara. Read the full story on Del Mar Surf Camp.
###