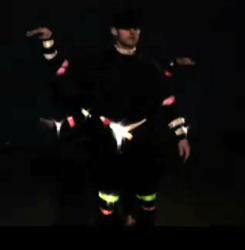 Traffic accidents can be prevented if you ensure that you and your loved ones are visible when outdoors at night.
Boulder, Colorado (PRWEB) October 26, 2011
When it comes to nighttime visibility, knowledge can save lives and prevent the pain and injury caused by accidents. Vedante shares eight essential tips to keep pedestrians, bicyclists, friends, family and pets highly visible at night.
Traffic accidents can be prevented if you ensure that you and your loved ones are visible when outdoors at night. According to a report by the National Highway Traffic Safety Administration:

Every 7 minutes a pedestrian is hit or killed
Most pedestrian fatalities occur at night between 6 p.m. and 6 a.m.
"It is our goal to educate people about traffic safety," said Barbara Kantor, night visibility expert and CEO of Vedante Corp, a company specializing in highly-reflective clothing and accessories for people and pets.
When interviewed about how to stay visible at night, Kantor suggests following these 8 simple steps:
1. "Wear white or light colors. White can be seen at night up to about 200 feet. On the other side of the spectrum, black can be seen at most about 20 feet at night."
2. "Walk defensively! Remember, just because you can see a driver doesn't mean the driver can see you. You are an unexpected object at night. In cross walks and parking lots, be sure the driver is aware of your presence by making eye contact before crossing in front of them. Use sidewalks when available. Be sure to walk facing traffic so you can see the headlights of oncoming vehicles."
3. "Wear reflective accessories from 30 minutes before sunset to 30 minutes after sunrise. Wearing reflective accessories is a good defense against being invisible, but you need to be sure that the reflective areas are large enough and give you 360 degree visibility. The little reflective logo on your shirt or shoe is not enough. Reflectivity should be labeled 500-700 CPL (visible up to 1000-1500 feet). If reflectivity is not labeled, it is likely only reflective 50-200 feet. This is not enough distance for a car to see you and stop at normal road speeds. "
4. "Use caution in parking lots. Do not walk behind parked cars that have taillights on. Listen for cars with running motors and do not walk behind them."
5. "Avoid the Red Light of Death. Did you know drivers have a blind spot at crosswalks? If you are standing (or bicycling) at an intersection, near the passenger side, you are quite often in the driver's blind spot. Awareness of this can keep you safer. If you are on a bicycle you can avoid this possible collision by stopping behind the car, instead of alongside it. If you are walking, let the car turn first if they do not make eye contact with you."
6. "Know and follow your local traffic laws. Whether traveling by car, by bike, or on foot, know the rules of the road - particularly right-of-way laws. Cyclists should use appropriate signals and lanes, and pedestrians should only cross at official crosswalks."
7. "Use lighted sidewalks & off-road paths, rather than the street, whenever possible."
8. "Carry a flashlight and place it on the side closest to traffic."
Kantor states "A simple change like wearing POP BANDS™ can truly save lives. It's a low-cost way to increase nighttime safety for you and your family." Vedante POP BANDS™ have the highest level of reflectivity for nighttime safety. Made with 3M Scotchlite in a wide range of candy colors, they are reflective up to 1500 feet - much more colorful and reflective than competitor products.
When accidents occur, both the person behind the wheel and the person hit are changed forever. Friends and family members also share the pain. Most of this suffering is preventable, and the first step is awareness. Once you become aware of safety issues, you will start to see how you can be part of the solution.
The next step is to speak up about it – share these 8 simple "Vedante Night Visibility Tips" with friends and family.
About Vedante:
CEO Barbara Kantor founded Vedante in 2006. Barbara's inspiration came during an evening walk when she witnessed a pedestrian being struck by a car. The pedestrian, in a cross walk, was unaware of the driver's inability to see her. Deeply impacted by what she saw, Barbara delved into research on safety and visibility and then studied reflective products that were currently on the market. Barbara's research and her 25 year background in fashion design led to her development of Vedante reflective safety products that are attractive and easy to use.
Vedante is a company committed to saving lives by increasing nighttime visibility and decreasing accidents through education, awareness campaigns, and "fashion that reflects well on you."
Vedante has consistently ranked among the top 10 best sellers in the United States at Amazon.com in its respective categories for super-reflective POP BANDS and pet accessories. To locate a local retailer visit http://www.vedante.com as well as at Sear.com.
For safety tips, deal alerts and fun stories follow Vedante on:
Facebook
Vedante Pet Products on Facebook
Twitter
###