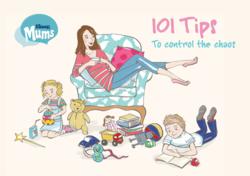 Kleenex Mums is all about making things easier for Aussie parents. We hope this eBook helps parents to get organised and make room for precious family time
(PRWEB) October 25, 2011
Kleenex Mums have just released an eBook to help parents get organised. The Control the Chaos eBook is free and available for download from the Kleenex Mums website now.
Kleenex Mums asked their community 'How do you control the chaos that comes with having kids?' and received close to 1,000 tips from Aussie parents all over the country. The latest eBook is a compilation of the top 101 tips and organisation advice from Kleenex Mums readers.
Inside readers will find cooking and menu planning guides, advice on how to set routines and allocate 'me time' and the ultimate monthly planner.
Melissa Gassman, co-founder of Kleenex Mums, is enthusiastic about the release of the Controlling the Chaos eBook. "Kleenex Mums is all about making things easier for Aussie parents. We hope this eBook helps parents to get organised and make room for precious family time, and a bit of me time too.
"We've collected the best organisation tips from real mums and dads from all over Australia and we're naturally very excited to be sharing it with our online community," she said.
Kleenex Mums is an online community of Australian mums sharing advice about parenting and also represents VIVA Paper Towel, Kleenex Facial Tissue and Kleenex Cottonelle Toilet Paper. For more information visit our website or download the Control the Chaos eBook (PDF).
Media contact:
Melissa Gassman
Kleenex Mums
(02) 9963 8888
info(at)kleenexmums(dot)com(dot)au
###