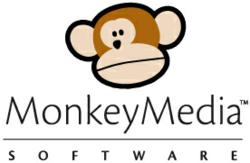 The MonkeyMobile™ Platform, provides multi-unit restaurant operators a crucial opportunity to connect with their customers and the ability to communicate special offers and services," says Mo Asgari, COO MonkeyMedia Software.
Chicago, IL (PRWEB) October 24, 2011
MonkeyMedia Software, a provider of complete catering solutions for multi-unit restaurant operators, today announced the launch of their MonkeyMobile™ Platform, designed to help multi-unit restaurant operators grow their remote ordering and catering capabilities and connect with their customers. The platform will be live and available to MonkeyMedia Software customers November 2011.
"As a result of implementing the MonkeyMobile™ Platform, multi-unit restaurant operators will have a powerful tool to grow revenue and connect with their loyal customers in an authentic, real-time way," says Erle Dardick, CEO of MonkeyMedia Software and author of Get Catering and Grow Sales! A Strategic Perspective for the Multi-unit Restaurant Executive. "Further, end-users will benefit from easy-access information and services that were not previously available to them in such a comprehensive, fast, simple way."
Dardick, who is speaking today at the Fast Casual Executive Summit in Chicago, believes multi-unit restaurant operators can easily increase their revenue by 20-40% when implementing a comprehensive catering strategy and sees the use of the MonkeyMobile™ Platform as a tool to enable that growth.
The initial release of the MonkeyMobile™ Platform will provide the following features:

Assist multi-unit restaurant operators in marketing new items and services to their loyal consumers;
Inform consumers of special offers and upcoming deals via push notifications;
Enable consumers to post to their favorite brands' Facebook and Twitter pages;
Allow consumers to view menus, store hours and facility information;
Help consumers find the nearest restaurant locations;
Allow for consumers to place orders (of course).
"We worked with Seattle-based Treemo Labs to develop the app portion of our MonkeyMobile™ Platform," says MonkeyMedia Software COO, Mo Asgari. "Their expertise in the mobile environment as well as their robust apps publishing platform was integral to the project."
"We were thrilled to work with MonkeyMedia Software marrying our apps publishing platform with their web based catering solution to create a compelling product for multi-unit restaurant operators," says Brent Brookler, CEO Treemo Labs.
"The MonkeyMobile™ Platform, provides multi-unit restaurant operators a crucial opportunity to connect with their customers and the ability to communicate special offers and services," notes Asgari. "Since we live in an increasingly mobile environment, with new needs, challenges, and opportunities, this new platform will greatly benefit both restaurants and consumers. It fills a major demand in the marketplace."
About MonkeyMedia Software
MonkeyMedia Software has developed The Get Catering and Grow Sales!™ Series consisting of strategy, education and software services specifically designed to drive catering sales in the multi-unit restaurant environment. Working closely with each customer's executive team, MonkeyMedia Software develops catering strategies, operational programs and provides software solutions to help drive successful catering revenue channels for multi-unit restaurant operators including Einstein Bros. Bagels, Bennigan's, Ruby Tuesday, Noah's Bagels, McAlister's Deli, On The Border, Boloco, Which Which, Go Roma, Boudin Bakeries and others. MonkeyMedia Software solutions feature a complete front-to-back system to manage sales, production and supply chain, powerful reporting for real-time visibility and results-based decision-making, a 100% web-based platform that is configured to fit a unique business process and easy integration with current web and accounting systems. For more information on MonkeyMedia Software, visit http://www.monkeymediasoftware.com.
About Treemo Labs
Seattle-based and founded in 2005, Treemo Labs provides the most robust mobile apps publishing platform with integrated social media, social networking, location services and gaming powered by advanced, web-based, content management tools. Treemo Labs has built and manages apps for some of the biggest brands in the world, including: 60 Minutes, CBS News, 48 Hours, RIck Steves, CNET, Big Brother, The Source, Survivor, Nirvana Nevermind (video app) and Smiley Central. For more information, visit http://www.treemolabs.com.
###