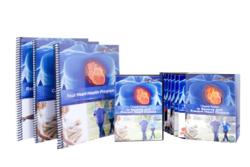 Achieving seven simple lifestyle factors gives people a 90 per cent chance of living to the age of 90 or 100
Calgary, AB (PRWEB) October 25, 2011
Heart disease is the leading cause of death in North America and the number one preventable disease. This fact was again reiterated at the Canadian Cardiovascular Congress in Vancouver. The opening ceremonies keynote, Dr. Yancy discuses Life's Simple 7 Steps for reversing heart disease trends. These are things we know but if we focus on these we can live another 40 plus years according to research presented when you are over 50.
The Heart Fit Clinic has released its universal comprehensive DVD program to reverse heart disease. The DVD program called "7 Powerful Practices to Reverse and Prevent Heart Disease" covers everything patients have to know to reverse and prevent heart disease along with ensuring how we can be on top of the "Life's Simple 7" Steps. The DVD program includes lifestyle changes on how to exercise safely and effectively to reverse heart disease; how to eat to reverse heart disease; quitting smoking strategies; stress management techniques to reverse and prevent heart disease. It will also include understanding your medications, your heart and your risk factors. Heart disease is frightening and ensuring you have the right support is essential to live happier, healthier and longer with heart disease.
Leading Cardiologist Dr Clyde Yancy states "Achieving seven simple lifestyle factors gives people a 90 per cent chance of living to the age of 90 or 100, free of not only heart disease and stroke but from a number of other chronic illnesses, including cancer.
The seven steps are:
1. People need to get active
2. Know and control their cholesterol with the guidelines.
3. Follow a healthy diet
4. Know and control their blood pressure
5. Achieve and maintain healthy weight
6. Manage your blood sugars
7. Stop smoking
You can do a risk assessment following these seven steps on the Heart and Stroke Foundation of Canada or American Heart Association websites.
The Heart Fit Clinic is the leaders in cardiac rehabilitation and heart attack and stroke prevention. The Heart Fit Clinic attends the Canadian Cardiovascular Congress annually to keep up with the latest research and innovations in cardiovascular health.
Yes governments can help us achieve this heart healthy lifestyle but ultimately it 100% the responsibility of the patient. They have to take charge of their heart health to reverse and prevent heart disease. Dr. Yancy seven steps could be summed up in just two things it would be move more and eat less.
###