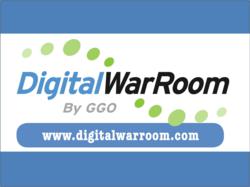 "The added complexities of internationalization, social media, and corporate compliance regulations continue to demand more of the legal profession, and paralegal professionals play an increasingly important role in litigation support and e-discovery."
Seattle, Washington (PRWEB) October 24, 2011
Gallivan, Gallivan and O'Melia (GGO, LLC), e-discovery experts leading the move toward accessible, affordable e-discovery solutions, today announced their sponsorship of the Washington State Paralegal Association (WSPA) Fall CLE conference, to be held October 28th at the Washington State Convention Center in Seattle. E-Discovery experts from Digital WarRoom will be available during the event to meet with attendees to discuss e-discovery challenges and solutions.
The Digital WarRoom Platform includes DWR Pro™, a single user Windows PC application for small/solo law, and DWR WorkGroup™, providing e-discovery teams with complete ESI processing, document review and production. GGO also offers full-service hosted e-discovery on the DWR Remote™ hosted platform designed for distributed and virtual team access to case data.
"In the 10 years that Gallivan Gallivan & O'Melia have provided e-discovery consulting services, we have seen a marked growth in the involvement and responsibility of paralegals in the e-discovery effort," said Jim VanderMeer, vice president of products and services. "The added complexities of internationalization, social media, and corporate compliance regulations continue to demand more of the legal profession, and paralegal professionals play an increasingly important role in litigation support and e-discovery. We are proud to sponsor this event during Washington State Paralegal Week."
About GGO
Since its inception in 2002, GGO (Gallivan Gallivan & O'Melia LLC) has successfully completed over 2,500 complex e-discovery matters. GGO offers the Digital WarRoom® software and consulting services spanning the entire e-discovery lifecycle from capture through processing, review, and production. Customized services include M&A target data preservation and internal data mining and investigations. Headquartered in Seattle, GGO offices are located in New York, Santa Clara, San Francisco, Dallas, Los Angeles, and serves all metropolitan markets in North America. Leading global corporations, Fortune 1000 companies, Am Law 100 law firms, and government agencies, including the Library of Congress, rely on GGO for robust technology and personalized service. To learn more about GGO, visit http://www.digitalwarroom.com
###