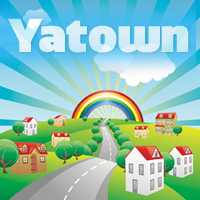 Our users care about things like familiarity, friendliness, and helpfulness.
Palo Alto, CA (PRWEB) October 24, 2011
Yatown announced today it is launching a good-neighbor score named "ALICE" on the neighborhood social network. The metric is designed to help neighbors discover and interact with one another on a reputational basis.
"Since our beta launch, users have been asking us to help them discover and connect more with their neighbors," say Christopher Nguyen, CEO of Yatown. "We've been busy rolling out Neighborhood-Information tools like local news, deals, and events. Today marks the first major development of our Neighborhood-Social phase."
For a social network revolved around Trust, Yatown needs to provide users with a way to be "introduced" to neighbors they may not have met before. Nguyen says that having a measure of reputation and connections, Yatown provides increased comfort in online interactions among neighbors.
Where metrics for other social networks like Twitter try to measure influence, "Our users care about things like familiarity, friendliness, and helpfulness," Nguyen explained. "These are all indicators of a 'good neighbor'."
What's behind the name ALICE? Yatown's Head of Engineering, Jerome Park, says, "ALICE stands for Activity, Longevity, Identity, Connectivity, and External feedback factors." Park continues, "Our algorithms account for these factors in determining the overall score. Activity looks at the positive actions users take on Yatown; Longevity has to do with how long a user has been on the network and how often she uses it. And so on."
Nguyen offered a simpler explanation, "One of us is a fan of Lewis Carroll, so the acronym ALICE was pre-destined."
"We want to make it pay to be a good neighbor. The ALICE score will ranking of user postings, just like Google Search," Park added. "Posts from the most helpful, most active, most connected neighbors are ranked higher as a result of their higher ALICE score. This means when they post a garage sale announcement in the future, it would likely reach a larger audience."
Yatown, which bills itself as "The Trusted Neighborhood Network", was founded in 2010. With the mission "To Connect Neighbors and Strengthen Communities," the company aims to help neighbors connect and share information online, with an emphasis on trust and social responsibility. Unlike Facebook, LinkedIn, Google+, and other social networking sites, the service focusses on the hyperlocal neighborhood space. Christopher Nguyen, co-founder and CEO, is a former engineering director at Google. Jerome Park, co-founder and Head of Engineering, built and led the Enterprise Appliance Partner team at Google. To sign up for the company's neighborhood networking service, go to http://yatown.com.
Media contact:
Aussie Gutierrez
Yatown
408-372-8664
press(at)yatown(dot)org
###