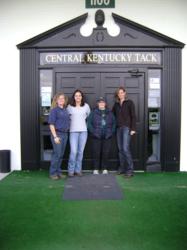 Katie Tibbs, of Central Tack said she is excited to be carrying GastroMax3 Equine Ulcer Paste, which was first recommended by a customer.
Wellington, FL (PRWEB) October 27, 2011
Horse Gold Inc., developers and manufacturers of GastroMax3™ Equine Ulcer Paste, the industry's most advanced equine gastric ulcer prevention solution, approved the company's first and possibly only nationwide distribution contract with MagnaWave Products.
According to Jodi Siegel, director of public relations and channel sales for Horse Gold, MW Products is a good fit for Horse Gold because nearly all MW Product representatives are personally involved in supporting horse health.
MW Products has served the thoroughbred racing industry since 2002, providing high quality equine therapy, therapy products and supplements from leading providers like MagnaWave, LubriSyn and others. Pat Ziemer, president and owner of MW Products said, "GastroMax3™ Equine Ulcer Paste fits with our mission to provide top quality affordable care and products to professional horse trainers and stables."
Equine Gastric Ulcer Syndrome (EGUS) affects more than 94% of all race horses and more than 70% of horses in all other disciplines. Because the cost of prevention is high, many horses go untreated until signs are severe. Symptoms of equine gastric ulcers can include colic, not eating, bruxism, poor coat quality, poor performance, changes in behavior including irritability and even cribbing. When left untreated, an equine ulcer is painful for the horse and can be deadly. The GastroMax3™ Equine Ulcer Paste's unique (Patent Pending) formula uses sodium acid carbonate to immediately neutralize excess stomach acid, enabling the primary active ingredient, omeprazole, to get right to the horse's small intestine. GastroMax3™ Equine Ulcer Paste also includes L-glutamine to further aid healing and prevention of ulcers.
"A 40% to 70% cost savings and 100% effectiveness is fast making GastroMax3™ Equine Ulcer Paste the go-to product for vets and trainers in both thoroughbred and standardbred racing," she said.
Three highly experienced MW representatives who work with trainers at Churchill Downs, site of the upcoming 2011 Breeders Cup: Scott Ward, MaryJo Robke and Shannon Zuver are all very excited about carrying the product. One of Zuver's earliest trainers to try and then switch to GastroMax3™ Equine Ulcer Paste is Daniel Smithwick Jr. of Smithwick Thoroughbred Racing Stables in Louisville, Kentucky.
Kate Ostermeier of Greater Good Sport Horses, a long time MW Products representative, has seen positive results with GastroMax3 Equine Ulcer Paste. One of Kate's newest clients is Central Kentucky Tack and Leather at the Thoroughbred Center on Paris Pike in Lexington, Kentucky, a Keeneland-owned facility. Katie Tibbs, general manager at Central Tack said she is excited to be carrying GastroMax3 Equine Ulcer Paste, which was first recommended by a customer.
ABOUT HORSE GOLD INC.
In 2010, Horse Gold was launched by a group of expert horsemen. Scott Mangini, PharmD, developed GastroMax3™ Equine Ulcer Paste to address the widespread problem of equine gastric ulcers in racing and performance horses. The company provides affordable, effective supplements for standardbred and thoroughbred trainers and horse owners. Horse Gold's priorities are the horse's health and the customer's satisfaction. To learn more about Horse Gold and its flagship product, GastroMax3™ equine oral ulcer prevention paste -- by horsemen for horsemen, visit http://www.HorseGold.com.
# # #