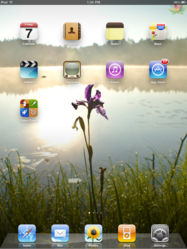 Free wallpapers in resolution 1024 x 768 can be used for iPad.
London, UK (PRWEB) October 27, 2011
Newfreescreensavers.com, a website offering a big collection of screensavers, has opened a new page, where not only computer users can download wallpapers, but also owners of iPads can select and download a wallpaper to their gadgets.
Newfreescreensavers.com offers wallpapers on different themes and in various formats. Free wallpapers in resolution 1024 x 768 can be used for iPad.
In order to install a wallpaper to an iPad, it is necessary to:

Open Safari browser on iPad
Visit NewFreeScreensavers.com , click wallpapers in the header of the main page or go directly to whttp://www.newfreescreensavers.com/wallpapers
Select a wallpaper and click 1024 x768
When the selected picture has fully loaded, keep your finger on it for a few seconds.
In the open menu select "Save picture" and it will be saved in "Photos" folder.
After that it is necessary to return to Settings of iPad, select "Brightness and Wallpaper" , select "Saved Photos", select the downloaded picture from NewFreeScreensavers.com and choose a screen or both screens, "Set Lock Screen", "Set Home Screen", "Set Both".
A selected image should now appear as an iPad desktop wallpaper.
All wallpapers and screensavers at http://www.newfreescreensavers.com are free and safe to install and run.
COMPANY:
NewFreeScreensavers.com offers a collection of completely free screensavers and wallpapers. It features a tips and tricks section about screensavers and a blog about everything related screensavers. To download a safe free screensaver, and to learn about the best screensaver available, visit Best free screensaver page.
###