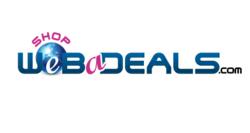 Our immediate expansion will lead to many job opportunities
(PRWEB) October 26, 2011
Webadeals.com is the only Daily Deal company that specializes in distributing daily deals through emails, daily coupons and its unprecedented mobile location based platform to double opt in subscribers. In the past, Webadeals.com has only supplied deals/coupons from National Brand name companies to their loyal subscribers. They are now moving into the local deal market as a result of their subscribership increasing by 1,000% over the past 6 months.
"Our goal is to continually provide our subscribers a way to obtain deals from companies they are already buying from….it is not a surprise that brand recognition is always part of a shopper's decision making process. We serve as a platform for consumers to buy from brand name companies that they are already buying from and receive a substantial deal or discount" says Human Resource director John Jacobs.
Jacobs continues to point out…"Our continuing popularity leads to increased subscribership and demand for more customized deals catering to our subscribers buying and behavioral habits! Therefore, by providing local deals to our subscribers, we will need to hire additional personnel in the areas of Administration, Computer programming, Customer Service, Sales, and Web Design in order to continually support our subscriber's"
Best of all, applicants can easily apply with our online automated system. All they have to do is log on to our site and sign in, then click "Employment" at the bottom of the home page. Then easily input their information and follow the instructions.
You can apply at http://www.webadeals.com
###