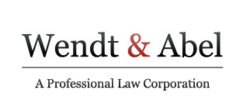 Serving SLO County Family Law - Divorce & Child Custody Clients for Over 25 Years
San Luis Obispo, CA (PRWEB) October 26, 2011
The San Luis Obispo, CA law firm of Wendt & Abel, a Professional Law Corporation recently launched its website, providing a valuable online legal resource to current and potential clients. The site offers helpful information to remove some of the fear and uncertainty from the legal process, including basic information on San Luis Obispo family law.
"Our new site is designed entirely with our clients and potential clients in mind. We certainly hope they will use it as a resource to answer their initial questions, and then let us guide them through the legal process personally."
Website visitors learn how Gregory Abel, the principal of Wendt & Abel, a Professional Law Corporation can assist them with their legal issue. The firm has developed a reputation for maintaining high ethical standards while aggressively representing clients throughout San Luis Obispo and Northern Santa Barbara Counties in family law legal matters.
About the Firm
Based in San Luis Obispo and representing clients throughout the Central Coast of California, Wendt & Abel, provides a comprehensive representation across a range of family law matters, including:

Divorce
Child Custody & Visitation
Child & Spousal Support
Property Division
Modification of Orders
Marital Settlement Agreements
Paternity, Adoptions
The firm also represents clients in Estate Disputes and Civil Litigation.
Obtaining a favorable and workable result in your family law matter is fundamental to your future and the future of your children. Gregory Abel, the principal of the firm, possesses the knowledge, foresight, and resources to protect your interests, now and in the years to come.
Serving clients throughout the Central Coast area, Wendt & Abel is dedicated to protecting your rights. The new website explains each practice area offered by the firm in greater detail. It also shares biographical information about Mr. Abel.
Gregory Abel has more than 30 years of experience having worked continuously for Wendt & Abel or its predecessor since 1981. For more information about the firm, please go to Contact Us or call (805) 543 3287.
Wendt & Abel, a Professional Law Corporation
21 Santa Rosa St Suite 200, San Luis Obispo, CA 93405-5813
http://www.slofamilylawfirm.com
(805) 543 3287
# # #