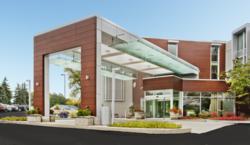 This renovation will lead us in a direction that benefits the community, our company, and our employees.
Ann Arbor, MI (PRWEB) October 26, 2011
Ann Arbor hotel and restaurant, Weber's Inn, will celebrate completion of a $2.5 million renovation on Thursday, November 10th. The boutique hotel will join contractor A.R. Brouwer and JPRA for a special architectural presentation. Mr. Ken Weber, owner of Weber's Inn, along with Mark von Werder of JPRA Architects, and Steve Brouwer, President of A.R. Brouwer Company, will discuss the advantages of renovating existing spaces vs. constructing new buildings in Michigan's current economic climate.
The A.R. Brouwer Company provides commercial construction services, utilizing three different approaches: design/build, construction management and general contracting. The firm was the lead contracting team on the three-phase renovation project at Weber's Inn of Ann Arbor. The Ann Arbor hotel also utilized work from JPRA Architects, a global multi-disciplinary firm specializing in retail, mixed-use, hospitality and commercial design. Furthermore, Derek Mehraban, CEO of Ingenex Digital Marketing and Founder of Lunch Ann Arbor Marketing, a 501c3 marketing educational non-profit, will be the Master of Ceremonies for the presentation.
"Major renovations can have a greater impact in difficult economic times," stated Ken Weber, President of Weber's Inn. "The public notices the improvements and the contractors appreciate the work. We were able to locate and secure the top talent which may not have otherwise been available. The new rule for hotel development is capital, capital, capital, and this benefits companies that operate a well-capitalized business. This renovation will lead us in a direction that benefits the community, our company, and our employees."
Some of the highlights of Weber's new facilities include a completely updated exterior and entrance, new pool area, front lobby, downstairs lobby, and wedding and banquet facilities. With the renovations now complete, customers can enjoy all that Weber's has to offer, making it the premier facility for weddings, banquets, and a perfect place to stay - whether it be for a weekend getaway or for the wary business traveler looking for a good night's rest. Three generations of the Weber family have continuously operated the hotel and restaurant in Ann Arbor. The character that is Weber's has been embellished with clean lines of modern architecture. You must see it to believe it!
Additionally, the renovation was completed in time to prepare for the company's upcoming 75th anniversary as a restaurant in Ann Arbor, MI.
Local government officials, professionals, and hospitality publications are expected to be in attendance.
About Weber's Inn:
Weber's is an upscale hotel located in Ann Arbor, Michigan. One of the top Michigan hotels, Weber's is a deluxe, full-service hotel, Ann Arbor restaurant, and banquet & conference property. Founded in 1937 by Herman Weber, Weber's is still owned and operated by the Weber family, committed to guest satisfaction. The boutique hotel also offers fine dining at the nationally famous Weber's restaurant and world class nightlife at The Habitat Lounge.
###