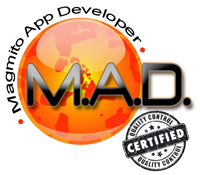 The MAD Program was born based on direct feedback from our users, reflecting a rapidly evolving mobile ecosystem.
Stockholm, Sweden (PRWEB) October 25, 2011
DIDMO, creators of the award-winning Magmito mobile application creation solution for all phones, has announced the launch of its Magmito Application Developer (MAD) Certification Program and Magmito 3.0. Designed to further empower its Do-it-yourself (DIY) developer community with advanced features and the ability to earn MAD certification status, Magmito's MAD Program meets expressed demand on the part of small Web and marketing agencies to offer mobile app creation services to their clients.
The MAD Program allows registered users the opportunity to certify their Magmito app development skills and take advantage of advanced platform features and promotional opportunities. MAD candidates submit two Magmito-generated apps to the certification board for review. Once approved, certified MAD clients receive 24 pages of content per app (vs. 12 with the basic version), url customization (removal of Magmito URL branding), exclusive training, marketing opportunities, VIP email support, a MAD Directory listing and more. An annual MAD Certification fee of $499 and an app publishing fee of $199 for each app created guarantee access to advanced features and functionality.
Magmito 3.0, available to all Magmito users, includes the ability to remove the main menu and offer one-page apps, a 'copy page' function, general user interface improvements and the option of submitting apps for inclusion in the enhanced Magmito showcase.
"The MAD Program was born based on direct feedback from our users, reflecting a rapidly evolving mobile ecosystem," said Ted Iannuzzi, DIDMO's chief executive officer. "When we launched Magmito in 2009, our goal was to put mobile content creation into the hands of the masses. We are one step closer to that reality with the release of Magmito 3.0 and the MAD program which is aimed at agencies, Web developers and designers looking for an easy-to-use, cross-platform compatible solution to get in the game themselves and on behalf of their customers."
The majority of Magmito's 13,000+ registered users are small and mid-sized businesses (SMBs) looking to Magmito as a means to enter mobile marketing. Using the tool, they can create cross- platform, rich, engaging and affordable apps for their customers, from restaurants to veterinary clinics and more. According to a study by Borrell Associates, 83% of small to mid-sized businesses in the U.S. are either planning to invest or already have invested a portion of their yearly marketing budget into the mobile channel. Platforms and solutions such as Magmito and the MAD Program are removing barriers to entry.
To learn more about the Magmito Application Developer Certification Program and apply to become a certified MAD, visit http://www.magmito.com/learnmore_mad.php.
About DIDMO
Creators of the world's first cross-platform mobile content creation solution, Magmito, DIDMO has empowered people and companies around the world to easily create, deliver and track rich and engaging mobile applications. Magmito's toolset has been used by companies including Turner Broadcasting, the Salvation Army, Sony Ericsson and Disney to launch mobile campaigns including product promotions, special events, customer surveys and more, delivered directly to virtually any phone on the market. DIDMO's "develop once, publish everywhere" philosophy leaves no phone unturned, from iPhone to Android, Blackberry to Java devices. Recipient of the 2010 Mobility Award, "Best in Mobile Marketing" for Magmito, DIDMO also won Sweden's Gold Mobile Award for "This Year's Mobile Business Solution." DIDMO is based in Stockholm, Sweden with offices in Naples, Florida. For more information visit http://www.didmo.com or http://www.magmito.com.
###