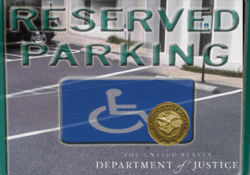 We want to make sure that we are providing designs for our clients that comply with current regulations...Our goal is to get it right the first time.
Richmond, VA (PRWEB) October 25, 2011
The revised ADA design standards were effective March 15, 2011. Compliance will be required for all new construction, alterations, and barrier removal projects on March 15, 2012. Bob Fitz, Director of Landscape Architecture at Koontz-Bryant, is heading the educational seminars on the new ADA design standards. Fitz is eager to help clients better understand the implications of the new design standards saying, "Not only is it good practice to accommodate the needs of individuals with disabilities, but the specific ADA regulations must be incorporated into the design of the facility because it is the law."
View an entire summary of changes to the ADA changes here. The following recreational facilities can expect to make modifications for any new construction:
1. Amusement Rides
Newly designed or constructed amusement rides will need to be accessible and located on an accessible route to the ride. Wheelchair space, transfer seats or transfer systems are not required on rides designed primarily for children, rides operated by the rider (such as bumper cars) or amusement rides without seats. However, all rides must be on an accessible route and provide appropriate clear space.
2. Recreational Boating Facilities
The minimum number of accessible boat slips provided at a boating facility depends on the size of the facility. Accessible boat slips must be dispersed throughout the various types of boat slips. At least 5% (no fewer than one) of accessible boat launch ramps must be provided at boarding piers where boat launch ramps are available. Gangways must also be accessible if they are part of a required accessible route and are subject to certain enumerated exceptions.
3. Fishing Piers and Platforms
Accessible routes must be provided at newly designed, newly constructed or altered fishing piers and they are subject to the same exceptions for gangways. A minimum of 25% of guardrails or handrails must be at a maximum height of 34 inches and must be spread out. Each accessible railing must have clear ground space as well as turning space on the pier.
4. Golf Facilities
Accessible routes or golf car passages must be available on all newly constructed and altered golf facilities and must be a minimum of 48 inches wide with connecting accessible elements and spaces within the boundary of the golf course. The golf car rental area, bag drop off areas and other elementsoutside the boundaries of the golf course must all have an accessible route. Depending on the total number provided, at least one to two teeing grounds per hole must be accessible. A golf car must be able to enter and exit the weather shelter if they are present at the golf facility. Other accessible areas are based on a percentage with regards to teeing grounds, practice stations, driving ranges and putting greens.
5. Miniature Golf
A minimum of 50% of all holes on a miniature golf course must be consecutively accessible on an accessible route that connects to the entrance or exit of the course without having to go back through other holes.
6. Play Areas
Any play area designed, constructed and altered for children ages two and above in an array of settings - including parks, schools, childcare facilities, and shopping centers - must be covered. Accessible ground and elevated play components, accessible routes, ramps and transfer systems (typically a platform or transfer steps), and accessible ground surfaces must be provided.
7. Swimming Pools, Wading Pools, and Spas
All entrances and exits must be accessible and can include a pool lift or sloped entry and either a transfer wall, transfer system, or pool stairs. A sloped entry must be provided in wading pools and pool lifts, transfer walls, or transfer systems must be provided in spas. Only one accessible means of entry (either a pool lift, slope entry or transfer system) is required for wave action pools, leisure rivers, and sand bottom pools where user access is limited to one area.
Fitz said, "While there are numerous other changes that need to be considered and addressed, some changes to the 1991 Standards are worth noting." They include:
1. Location of Accessible Routes
1991 standards require that at least one accessible route be provided within the site from site arrival points to an accessible building entrance and that at least one accessible route connect accessible facilities on the same site. The 2010 Standards also add two exceptions that exempt site arrival points and accessible facilities within a site from the accessible route requirements where the only means of access between them is a vehicular way that does not provide pedestrian access.
2. Van Accessible Parking Spaces
The Department did not increase the total number of accessible spaces required but did increase the proportion of spaces that must be accessible to vans and other vehicles equipped to transport mobility devices.
3. Athletics
Sports fields and courts require accessible routes to spectator and player areas, including spectator seating. New courts must have accessible routes connecting to BOTH sides of the court.
Fitz stresses, "We want to make sure that we are providing designs for our clients that comply with current regulations." If these issues are not properly addressed at the initial phase of a project then the proposed plans will ultimately be rejected for approval by governing agencies. This could delay the project's completion and cause additional project costs. "Our goal is to get it right the first time."
Bob Fitz will be conducting educational seminars for organizations interested in learning how they may be impacted by the ADA regulation changes. For more information about ADA regulation changes specific to site development, please contact Bob Fitz at 804-200-1913 or email him to schedule a seminar.
# # #