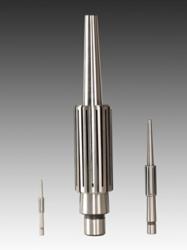 Amelia, OH (PRWEB) October 26, 2011
LeBlond Ltd., a supplier of LeBlond lathes, K.O. Lee grinders and OEM service parts, has re-introduced a full line of K.O. Lee expanding mandrels. The mandrels are "Best-In-Class" in the industry with ranges of 3/8" to 5-1/2" (9.53mm to 139.7mm). They will hold work from thin sleeves and bushings to heavy castings and forgings. K.O. Lee, a subsidiary of LeBlond Ltd., is part of a great machine tool tradition that dates back to 1887.
Competitively speaking, K.O. Lee expanding mandrels have more range and flexibility than any other product on the market and the large bearing surface minimizes wear. This bearing surface forms a positive grip for grinding, turning and milling operations. Work can be held in any position on the sleeve and may overhang on either or both ends for facing operations.
The expanding mandrels are a combination of precision ground arbors and sleeves that provide accuracy of 0.001" (0.025mm) or better. K.O. Lee auxiliary centers provide an oil reservoir that prevents damage to the arbor center and prolongs arbor life.
K.O. Lee mandrels are available from the General Purpose Series ranging from 3/8" to 2-1/2" to the Heavy Duty Series with a range of 1-1/16" to 5-1/2".
K.O. Lee expanding mandrels are a time-tested, work holding tool used in production lines, tool rooms and home work shops. A full compliment of K.O. Lee mandrels can reduce cost and the need for stocking a separate mandrel for every job.
For additional information, call LeBlond Ltd.'s toll free number at (888) 532-5663 or visit LeBlond's websites at kolee.com and leblondusa.com.
Company Information
LeBlond Ltd. is the only company in the world with OEM replacement parts for LeBlond and Standard Modern lathes, K.O. Lee grinders, Johnson Press and Deka Drills. LeBlond sells new machines, rebuilds equipment and offers "world-class" accessories and tooling items. Whether your manufacturing requires genuine LeBlond parts or quality industrial products, you can "one stop" shop at LeBlond.
###