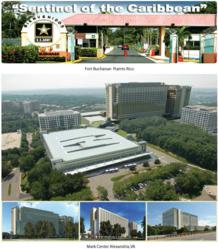 An excellent resource for any military family moving to a new area. We found a ton of homes to choose from and rented a house in 8 days. This was the only site I used. Thanks!
Stafford, VA (PRWEB) October 26, 2011
MilitaryByOwner advertises homes for sale and/or rent near military installations. The website recently added two new military locations, Fort Buchanan and Mark Center. Founded in 2000 by Dave and Sharon Gran after recognizing a need to connect military families relocating from one base to another. "The feedback we have received from homeowners near Ft Buchanan, Puerto Rico is to add the US Army base located in San Juan. The newly opened Mark Center in Alexandria, VA houses the Washington Headquarters Service (WHS), and a number of other DoD agencies." explained David Gran.
Fort Buchanan supports readiness and mission execution, providing quality services and facilities, optimizing resources, sustaining the environment and enhancing the well-being of the community. It conducts its mission sustained by seven directorates – Human Resources; Family, Morale, Welfare and Recreation; Plans, Training, Mobilization and Security; Emergency Services, Logistics, Public Works and Information Management; seven support offices – Legal, Public Affairs, Religious Support, Equal Employment Opportunity, Safety, Internal Review and Contracting; and three management and control offices – Resource Management; Plans, Analysis and Integration; and the Administrative Office. Among the factors that make U.S. Army Garrison Fort Buchanan Puerto Rico unique are its strategic location providing fast and cost-efficient support to missions in the Caribbean, Central and South America.
The Mark Center is the new location for the Washington Headquarters Service and a number of other DoD agencies. The facility is part of Fort Belvoir, but is located on Mark Center property in Alexandria, VA. The move was made per BRAC decision in an effort to move DoD personnel out of leased space to more secure sites that meet the department's high anti-terrorism standards. About 1/3 of the expected 6,400 new workers are working there now. Full occupancy should occur sometime in 2012.
MilitaryByOwner looks forward to working with the homeowners from both locations. The website offers three home advertising packages to fit the needs of the homeowners, real estate agent or property managers. The website has over 300 base locations to advertise homes for sale or rent as well as advertising for businesses that relocating families need to find. For more information concerning home or business advertising, contact us at 866.604.9126 9am-5pm EST.
###