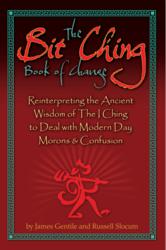 "…hone in on your individual definition of success, and (deal with) the people and challenges that can help or hinder you in the pursuit.
Allentown, PA (PRWEB) October 25, 2011
A fresh look at one of the oldest books in history reveals some very accessible paths to success, and tricks to keeping one's balance along the way.
With roots going back some 5000 years, "The I Ching: Book of Changes" is on par with the Bible and the Koran – a sacred text among the Chinese, the common root for Taoism and Confucianism, and a valued guide for followers of Buddhism. Of the thousands of translations, interpretations and derivations, the most radical yet might be the newly published The Bit Ching Book of Change: Reinterpreting the Ancient Wisdom of The I Ching to Deal with Modern Day Morons & Confusion.
The refreshingly readable, 150-page book is based on the experiences of Pennsylvania construction honcho and coauthor Jim Gentile, founder of Allentown-based North Star Construction and a fan of the I Ching since he was twenty.
"It's a very different guide for helping readers hone in on their individual definitions of success, and for dealing with the various people and challenges that can help or hinder you in the pursuit," says Russ Slocum, who coauthored the book.
The Bit Ching does not always tread lightly on the path to enlightenment. There may be a serious message behind each short chapter, but Mr. Gentile and coauthor Russell Slocum don't hold back on humor, expletives, or perspectives on the common practices and personality traits that they feel get in the way.
The Bit Ching Book of Change covers a lot of territory, but the 64 two-page chapters make it an easy read – brief, to the point, and ideal for readers short on time or attention span.
The book is now available online from Amazon and Barnes and Noble.
###