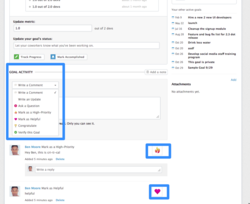 The WorkSimple platform allows employees to leverage praise to create a highly engaging experience at work.
San Francisco, CA (PRWEB) October 25, 2011
WorkSimple (http://www.getworksimple.com), the Social Enterprise for work, recognition and reputation in the workplace, has announced the availability of Praise -- a new app that allows employees to recognize any co-worker for top efforts and contribution with a series of colorful badges. When employees exceed goals and expectations, badges are given out as a congratulations for their special achievement. When employees accomplish their goals, there is a lightweight tool for coworker and manager recognition.
In an effort to help employees build their professional brand, users can see the badges acquired from the entire team on their profile, their WorkStory -- a professional timeline of work. They can even post this feedback directly to their LinkedIn profile. Whether it's for closing a sales deal, providing great service to a customer, or lending a hand when needed, providing recognition is a simple way to publicly acknowledge strong performance, which leads to increased employee engagement and morale.
The WorkSimple platform allows employees to leverage praise to create a highly engaging experience at work. Users are rewarded with real-time achievements, and build their brand and reputation both inside and outside their organization when they accomplish measurable business goals. Employees are able to recognize and reward co-workers for contributing, supporting or achieving key goals that matter to them -- while allowing everyone to share accomplishments and goals through other social networks, like LinkedIn.
"Our new Praise app is designed to drive more co-workers into the highly engaged category," said Morgan Norman, founder and CEO of WorkSimple. "Today, 53 percent of all users on WorkSimple are highly engaged versus the tradition U.S. average of 21 percent. WorkSimple's Praise will help employers double their engagement average."
Praise is designed for high engagement by being a lightweight and colorful way to quickly add positive performance feedback. With praise, you can congratulate performance, verify accomplishments, and offer 360-degree feedback socially with a user experience that is more like Facebook than SuccessFactors.
"The social design of praise allows you to transform your moderately-engaged and low-engaged workforce into the highly-engaged bucket in months," said Ben Moore, founder and CTO of WorkSimple. "With WorkSimple's Praise, employees get a platform for internal use, as well as the option to create and extend their professional brand and accomplishments inside and outside the organization."
Praise is available for WorkSimple users on both Free and Paid Editions.
About WorkSimple
WorkSimple is the new way to drive performance. Individuals, small teams and large global organizations alike use WorkSimple as a better way to share goals, work together, get and give feedback, and make others shine. The basic version of WorkSimple is free for unlimited users, and includes WorkStory™, Social Goals™, Praise, Get Verified, Feedback, and Activity Steams. Customers can pay to upgrade for additional functionality including Goal Reviews, Goal Score, and Influence. Get started at http://getworksimple.com.
###