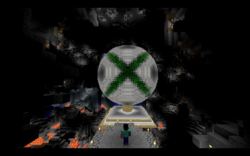 We're thrilled MineCon attendees will be the first to experience 'Minecraft' for Xbox – months ahead of its planned release date
Stockholm, Sweden (PRWEB) October 24, 2011
Fans of Mojang studio's indie game phenomenon, "Minecraft," will gather at the Mandalay Bay Hotel & Casino in Las Vegas, Nev., on Nov. 18 – 19 for the first ever MineCon fan event, sponsored in part by Microsoft. MineCon attendees will have the opportunity to play "Minecraft" on Xbox 360® before it is publically available in Spring 2012. In addition, MineCon will mark the official launch of the PC version of "Minecraft". Reaching close to four million unit sales during its Alpha and Beta phases, "Minecraft" is one of the best-selling PC games in history.
"The infinite possibilities in 'Minecraft' just got bigger, and we are very happy with the development of 'Minecraft' for Xbox 360," said Mojang lead designer Markus "Notch" Persson. "We want to keep the core experience of the original PC version intact, while ensuring the game fits its new platform. We're thrilled MineCon attendees will be the first to experience it – months ahead of its planned release date."
MineCon is the first fan convention dedicated to "Minecraft." Thousands of attendees will participate in planned events and activities, including a keynote address by Persson, during which the full version of the PC game will officially launch. Fans will also attend breakout sessions dedicated to game strategy; participate in costume contests; and visit an exhibit hall, a developer theater and more. Microsoft is a presenting sponsor for MineCon and will participate in the preview of the Xbox 360 version of "Minecraft." which will also be supported by Kinect next year.
"We appreciate working with Microsoft to create a memorable event for 'Minecraft' fans, especially against the backdrop of the entertainment capital of the world, Las Vegas," said Carl Manneh, Mojang's managing director. "It's going to be a great celebration of everything 'Minecraft.'"
----------------------------
About MineCon
MineCon 2011, the official "MineCraft" event, takes place November 18 – 19 at the Mandalay Bay Hotel and Casino in Las Vegas, Nevada. Thousands of "Minecraft" fans will participate in the two-day convention. For more information and tickets, visit http://minecon.mojang.com.
About Mojang
Mojang is an indie game development studio based in Stockholm, Sweden. Founded by Markus "Notch" Persson, Jakob Porser, and Carl Manneh in October of 2010, Mojang has reached a user base of 14 million registered users with its first game, "Minecraft." Mojang is currently developing its second game, "Scrolls," and planning to release 3rd party game, "Cobalt." For more information, visit http://mojang.com/.
###