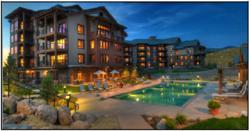 Salt Lake City, UT (PRWEB) October 26, 2011
Silverleaf Financial recently acquired a $57 Million non performing loan secured by 58 unsold luxury condominium units within the 86 unit Trailhead Lodge Development in Steamboat Springs, Colorado.
The loan originated in 2007 for the amount of $57.4 Million and was later extended in 2009. Currently the loan is in maturity default with an unpaid principle balance of approximately $48 Million.
Trailhead Lodge is a luxury hotel/condominium project built in 2009 on a 2.73 acre site. The property is the focal point of a 47 acre development known as the Wildhorse Meadows. The property is located minutes from the base of Steamboat Ski Resort, which can easily be reached via the Trailhead gondola that conveniently transports condo owners and guests to the base of the resort.
The Steamboat Ski Resort boasts a massive 2,965 acres, encompassing over 3,300 vertical feet of ski area. With a genuine old western town feel and 249 inches of average snowfall, the mountain services more than a million skiers per year. See http://www.steamboat-chamber.com.
The lodge is managed by Wyndham Vacation Rentals. Wyndham offers one of the largest and most diverse collections of serviced vacation rental accommodations in the world. They manage more than 90,000 vacation properties in over 500 destinations. They also provide over 51,000 independent vacation property owners the opportunity to rent their properties through there well known vacation rental brands. For more information about Wyndham go to http://www.wyndhamrentals.com.
The lodge consists of one 5-story building over a 2-story underground garage, and features a total of 86 residential units. The units total 93,933 net square feet. All of the units are fully decorated with luxury furnishings and appliances. The large windows in the units offer dramatic views of the South Valley and Emerald Mountain. Unit amenities include a balcony, fireplace and lockable storage. The 58 available units are offered in 14 floor plans ranging in size from 461 SF to 2,197 SF (average of 1,142 SF) for a total of 66,254 SF
Common area amenities include an outdoor patio area with built in barbecues, a large lap pool, three hot tubs, fitness room, his/her locker rooms and a game room. Each unit includes its own indoor storage space in the underground parking garage. The complex is served by two high-speed elevators.
With a local population of only 12,000 people, Steamboat comes to life with its many visitors and vacationers from New York, Chicago, Atlanta, Dallas and Houston. All of these cities have direct flights making it an easy and convenient ski destination. The city of Steamboat Springs is now in its fifth year of the "Base Area Redevelopment Project." It's anticipated that over 1 billion dollars of public and private funds will be leveraged to improve and revitalize the area, according to the city's website.
In addition to being a world class ski destination, Steamboat Springs offers many year-round activities, including popular summer activities such as biking, camping, boating, climbing, fishing, four-wheeling, golf, horseback riding, gondola rides, hunting, helicopter sightseeing, rafting and wagon rides.
Silverleaf Financial intends to aggressively market the Trailhead units based on their new cost basis. Shane Baldwin, Principle of SilverLeaf Financial said his goal is to sell the remaining units which will pave the way for the completion of the master Wildhorse Meadows plan. Silverleaf Financial will continue to pursue the acquisition of distressed debt secured by commercial real estate nationwide.
To see what people are saying about the world class ski destination, Trailhead Lodge, visit TripAdvisor.com or Click Here.
For more information about Trailhead Lodge visit there official website at: http://www.steamboatresorts.com/accommodations/trailhead-lodge
About SilverLeaf Financial
Headquartered in Salt Lake City, Utah, SilverLeaf Financial is a private equity firm focused on acquiring non-performing commercial loans secured by first position trust deeds. These assets are acquired from the FDIC, regional banks, national banks, special servicers and other financial institutions for the purpose of future monetization. For more information, visit SilverLeaf Financial's website http://www.SilverLeaf-Financial.com
###